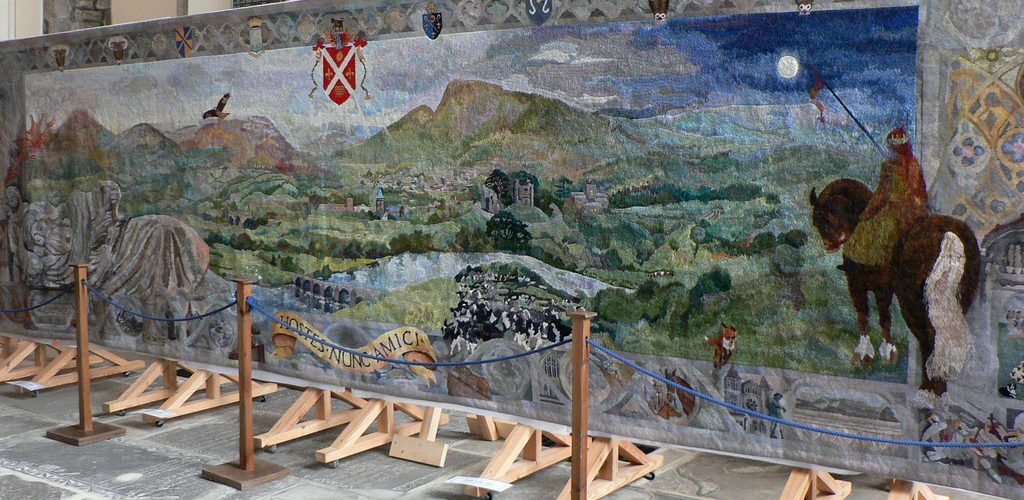 Creation: A Celebration in Tapestry
It's all part of life's rich tapestry…
The 42 breathtaking panels of embroidery, painting and mixed-media are a luminescent piece of storytelling which took two years to complete. The intricate tapestries are based on Bible verses from Genesis 1–2, and are rich in detail, vitality and even humour; helping viewers to reconnect with the natural world through a blend of historic and contemporary artistry.
The tapestry panels, by artist Sue Symons, were completed in the summer of 2009, and were displayed at Bath Abbey alongside the Bath Diptychs.
On display at St Mary's Priory Church for the whole of September.
Sue Symons studied Fine Arts at Bath Academy of Art followed by a year at Leicester University specialising in needlework. She taught at schools in Wallingford and Malvern before moving to France. Sue then spent sixteen years in British Columbia, Canada, where she taught Further Education classes and exhibited widely. In 2005 she returned to England, and now lives near Bath, where she began work on her first set of panels, now known as the Bath Abbey Diptychs, which relate the life of Christ from Annunciation to Ascension.
Praise for Sue's book:
'If there was an award for the most beautiful book of the year. Peasedown artist Sue Symons would stand a very good chance of winning it.' – Bath Chronicle, May 2010