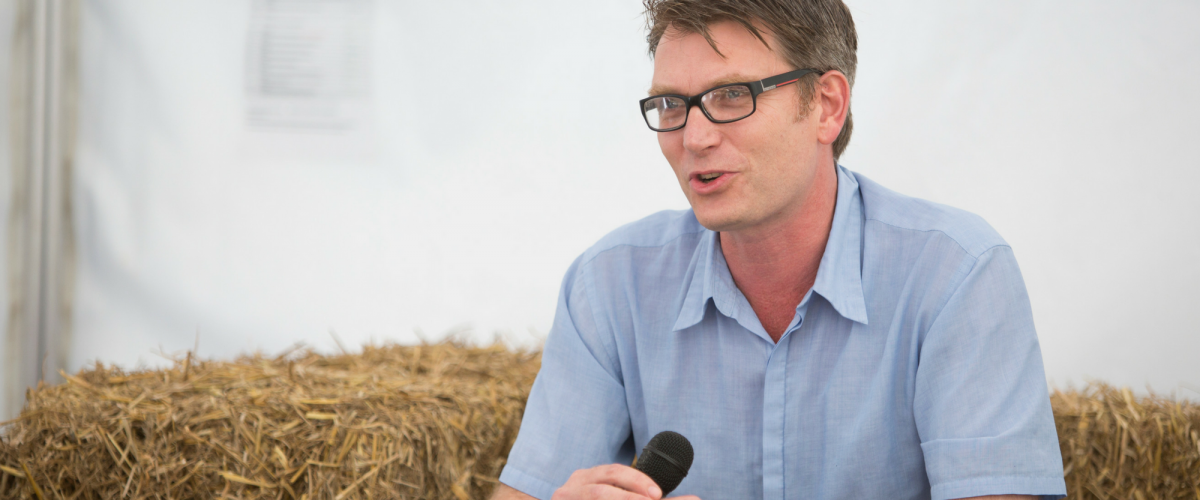 A lively programme of powerful and provocative 30 minute talks, chaired by local farmer and BBC Wales Economics Correspondent Sarah Dickins and her husband and farmer Nick Miller, that will delve into the topics affecting farming today and reveal the realities of food production, as told by the people who are living and working it. Each day is themed so talks will take you on a journey around two key subjects that are timely and topical.
Saturday is focused on how Brexit will affect farming and food locally and in the UK with inspiring, challenging and diverse talks by speakers including local surveyor and rural commentator Rob Yorke, local pig farmer and founder of The Decent Company Martha Roberts and the President of the Country Land and Business Association Ross Murray.
Sunday is geared towards celebrating the thinkers and doers and makers and innovators who are shaping the future of food and farming in this country, with exciting and innovative talks by speakers including Kate Humble's aquaponics farm manager and edible garden designer Beca Beeby, co-founder of Hodmedod's British Quinoa farm and company Nick Saltmarsh, and Abi and Phoebe who set up #OurField, a cereal co-operative farm movement and founded Future Farm Lab, bringing tech and social change together as tools to power more sustainable food systems.
The 'Farming Matters' programme will take place between 12.30pm – 3.15pm each day, with opportunities to ask questions and voice your opinion during and after the talks.
FARMING MATTERS PROGRAMME 12:30 – 15:15
Introduced by Sarah Dickins, BBC Cymru's Economics Correspondent
Saturday 16th September
12:30 – 13:00 Can we be franker on food: shining a light on tough choices between animal welfare and wildlife conservation
Rob Yorke (Local surveyor, rural commentator & blogger)
How do we balance producing the best welfare meat and looking after nature? A conversation on free-range chickens in wildlife rich areas, lab meat, food labelling, outdoor pigs in mud, 'innovative' agriculture, and affordable food in post-Brexit Britain
13:15 – 13:45 The opportunities for sustainable food production post Brexit
Simon Crichton (Food, farming and trade team manager, Triodos)
How the conscious use of money can have a positive impact on our food systems
14:00 – 14:30 Being a small-scale farmer – the realities of now and how Brexit may affect us
Martha Roberts (local pig farmer, The Decent Company)
14:45 – 15:15 Why the Countryside Matters
Ross Murray (President of Country Land and Business Association – CLA) chaired by BBC Cymru's Sarah Dickins)
The case for on-going investment in the countryside; the importance of our own bespoke policies around agriculture & land post Brexit & proper incentives for farmers to continue producing quality food & how this can contribute towards a healthier diet
Sunday 17th September 
12:30 – 13:00 Eat more British Beans!
Nick Saltmarsh (Hodmedod's Co Founder) chaired by Nessie Reid
Hodmedod is on a mission to get Britain eating (and growing) more beans, peas, lentils, quinoa and other pulses and grains. They're good for us, and good for the future of British farming too
13:15 – 13:45 Aquaponics: sustainable food production and its possibilities
Beca Beeby (designs & runs Kate Humble's aquaponics farm & edible garden) chaired by Nessie Reid
14:00 – 14:30 How people & social change will impact farming for the better
Abi Aspen Glencross & Phoebe Tickell (Co-founders of #Our field- the cereal co-op movement & Future Farm Lab) introduced/chaired by Nick Miller
Crop sharing, new technologies powering sustainable food systems & beyond…
14:45 – 15:15 Environmental farming: Natural habitat management & wildlife diversity on the farm
Robert Whittal, with his son Ryan (Local father and son farmers, Square Farm: pasture fed organic farm) introduced/chaired by Nick Miller
How farming and nature working side by side can ensure the future of both