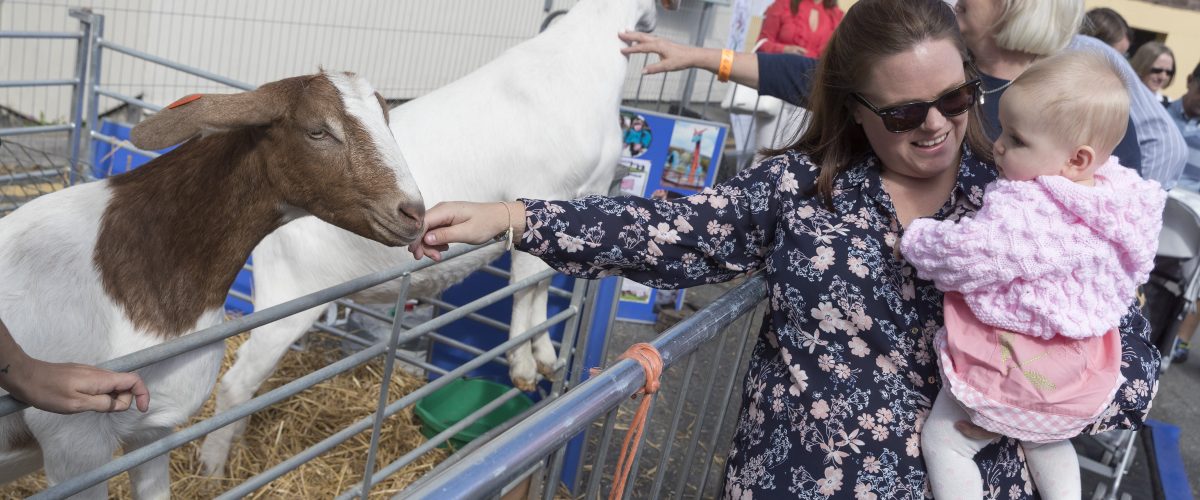 Kids and Families Farmyard Takeover
We are handing the Farmyard over to the next generation on both mornings between 10:00 – 12:00 with a host of fun and interactive experiences aimed to get children, and adults too, excited about food and farming. Learn about the realities of farming and food and get stuck in to some fun hands-on workshops, interactive demonstrations and exciting and inclusive bite size talks, accessible to all.
Activities include wild tea making with foraged foods, felting with wool, animal handling, games, challenges, milling flour and more.
The programme of 'Back to Basics' talks for kids and families include exciting and interactive discussions on Stardust in our Soil: where things grow and why and what our soil is really made of; The Magic of Seeds; and How to Keep Pigs Happy. Topics to inspire budding farmers, growers, gardeners, food producers and inquisitive minds of all ages. We want everyone to get involved and to learn something new from the talks and demonstrations on hand, and encourage you to share your own questions and opinions around the topics of food production and farming.
FAMILY FARMYARD TAKEOVER BITESIZE TALKS PROGRAMME – 10:00 – 12:00 Introduced and chaired by Nessie Reid 
Saturday 16th September
10:15 – 10:30 Welcome to our Farmyard!
Nessie Reid, Farmyard Family Takeover Chair Person (Manager of the Oxford Real Farming Conference and creator of The Milking Parlour)
An introduction to the Farmyard. Bring the whole family and tell us what you think about farming today. Be part of an interactive discussion about where your food comes from, and Kids – we want to hear from you most of all! There will be a blackboard ready for you to write down your thoughts and ideas so don't be shy, come on down and take over the Farmyard!
10:45 – 11:00 Where does your seed come from?
David Price (The Seed Cooperative)
11:15 – 11:30 Keeping Pigs happy
Martha Roberts (The Decent Company) & Helen Joy (Swanbridge Porkers)
Including a live animal sketch from fine art trained small holder and local farmer Helen Joy!
11:45 – 12:00 The importance and role of the community farm
Greenmeadow Community Farm
12:00 – 12:30 Modern Farming and Tractor Talk & Demonstration
Anna Sutton (daughter of Frank Sutton of the Raglan John Deere dealership and Gathering of the Greens) & Andy Mounter (Tractor demonstrator)
Introductory talk by Anna Sutton about modern farming, machinery, engineering and technology used locally to produce the food we consume. Followed by an opportunity to look inside the tractor cab and ask demonstrator Andy about how the technology works and how farmers are already using state of the art tractors and software. Includes a display of art work/designs by young people associated with Gathering of the Greens and Rougemont School
12:10 Live goat milking at the pens!
Natalie and James Hepburn (Garlic Meadow smallholding)
Head to the goat pen for a demo & commentary of goat milking and how it is used to make goat milk soap
Sunday 17th September
10:15 – 10:30 Stardust in our soil: where things grow and why, and what is really in our soil
Liz Knight (Fine Forage Foods and local forager/producer)
10:40 – 10:55 A Miller's Tale: From grain to great bread with Talgarth Mill
Felin Talgarth Mill
11:05 – 11:20 Raw milk farming for beginners
Emma Robinson (Grosmont Wood Dairy Farm)
11:25 – 11:40 10 reasons to love wool
Emma Bevan (Folky Felts creator and local artist)
Using natural materials from the farm in art & crafts
11:45 – 12:00 Smallholding lessons from a newbie: learning to grow your own food
Liz Zorab (Local Organic Homesteader and Blogger)
18 months ago we started an organic homestead & are learning to become self-efficient with a healthy dose of humour & chickens, ducks & a little bit of permaculture, or the parts that work for us
FAMILY FARMYARD TAKEOVER DEMO TABLES & KIDS WORKSHOPS (in the speakers tent) – Saturday & Sunday AM from 10:00 – 12:00
Saturday
Interactive Chalkboard – Nessie Reid will be asking topical questions throughout the Family Takeover slot & encouraging kids to write their ideas & answers on the blackboard
How to keep happy pigs: props, pics & info and a pig meat cuts display board with Martha Roberts, local pig farmer and small-holder (The Decent Company)
Flour-milling & learning about different grains & their journey from field to bread – Felin Talgarth Mill *they will also be giving out vouchers to visit their mill
Food & farming related activities (puzzles, games, colouring, challenges) plus kids can have a go at dying eggs & learn about the protective covering on an egg (overalls will be provided) with Greenmeadow Community Farm *they will also be giving out discount vouchers to visit the farm 
Sunday
Interactive Chalkboard – Nessie Reid will be asking topical questions throughout the Family Takeover slot & encouraging kids to write their ideas & answers on the blackboard
Wild tea and drink making with foraged foods & info on safe, fun foraging for kids – Liz Knight (Fine Forage Foods)
Felt-making demos & workshop plus a felt & wool display and info on working with wool – Emma Bevan (Ffolky Felts)
Flour-milling & learning about different grains & their journey from field to bread – Felin Talgarth Mill *they will also be giving out vouchers to visit their mill
Food & farming related activities (puzzles, games, colouring, challenges) plus kids can have a go at dying eggs & learn about the protective covering on an egg (overalls will be provided) with Greenmeadow Community Farm *they will also be giving out discount vouchers to visit the farm