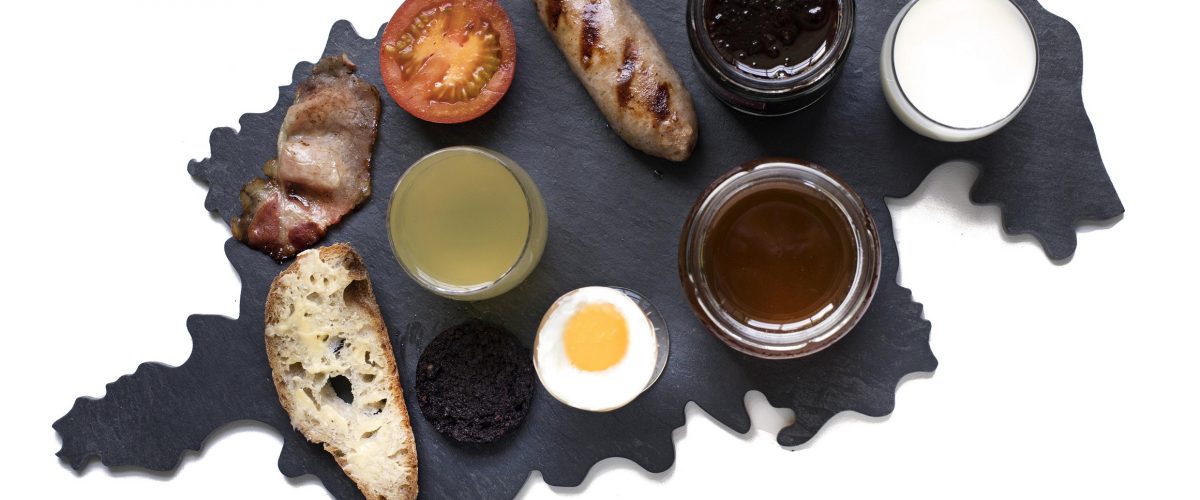 A Monmouthshire Breakfast
Welcome to a Monmouthshire Breakfast. This traditional cooked breakfast made will be prepared from foods grown or produced within the county of Monmouthshire. Monmouthshire has some fantastic food producers and you'll have an opportunity to sample some of the very best this beautiful county offers.
Bacon from pigs reared by Phillip Bevan at Great House Farm, Llanddewi Rhydderch. Phil rears both Saddleback and Old Spot Pigs that he hand selects himself, and the bacon is cured and provided for us by Master Butcher, Neil Powell of Abergavenny. Boudin Noir prepared by James Swift's award winning Trealy Farm Charcuterie at Penperlleni.  This beautifully rich artisan product is based on James's French grandmother's black pudding. Free range Monmouthshire eggs from Lower House Farm, Coed  Morgan, Abergavenny.
Sausages from Square Farm at Mitchel Troy. Square Farm is a traditional mixed organic farm with pigs, sheep, cattle, chickens, ducks and geese. Tomatoes, along with a range of other seasonal organic vegetables, which will be incorporated into the vegetarian breakfast options, are grown by Paul's Organic Veg also at Square Farm.
The bread is made right here in town. Artisan sourdough, naturally leavened over 36 hours from the Angel Bakery, or Dutch and Italian style breakfast loaves by the Abergavenny Baker, Rachel Watson, who is also a local GP.
Honey will come from a range of great Monmouthshire producers. Butter and milk is sourced from a Mead Farm Caldicot, which is run by husband and wife team, Lawrence and Izabela Hembrow, with their two young children William and Abigail.
Llanvihangel Crucorney Fruit Farm and Old Lands Dingestow will provide our apple juice, Chantler's Teas will blend an Abergavenny Gold black leaf tea whilst our coffee is crafted by Black Mountains Roast in the foothills of the Black Mountains..
This is a great opportunity to come and taste the view surrounding this lovely Welsh town in Monmouthshire.
A Monmouthshire Breakfast Menu
 Bacon: Great House Farm, Llanddewi Rhydderch.
Sausages: Square Farm, Mitchel Troy
Black Pudding: Trealy Farm Charcuterie, Penperllenni
Free Range Monmouthshire Eggs: Lower House Farm, Coed  Morgan, Abergavenny
Tomatoes: Paul's Organic Veg, Mitchel Troy
Frittata with a Medley of Seasonal Vegetables: Eggs, Lower House Farm, Coed Morgan, Abergavenny
Cheese (Goat's Cheese or Harlech), Abergavenny Fine Foods
Vegetables, Paul's Organic Veg, Mitchel Troy
Bread: The Abergavenny Baker & The Angel Bakery, Abergavenny
Milk and Butter: Mead Farm Foods, Redwick, Caldicot
Selection of Jams & honey: Little Mill Natural Products, Little Mill
Apple Juice: Llanvihangel Crucorney Fruit Farm, Llanvihangel Crucorney and/or Old Lands Community Supported Agriculture, Dingestow
Tea: Abergavenny Gold by Chantlers Teas
Coffee: Black Mountain Roast