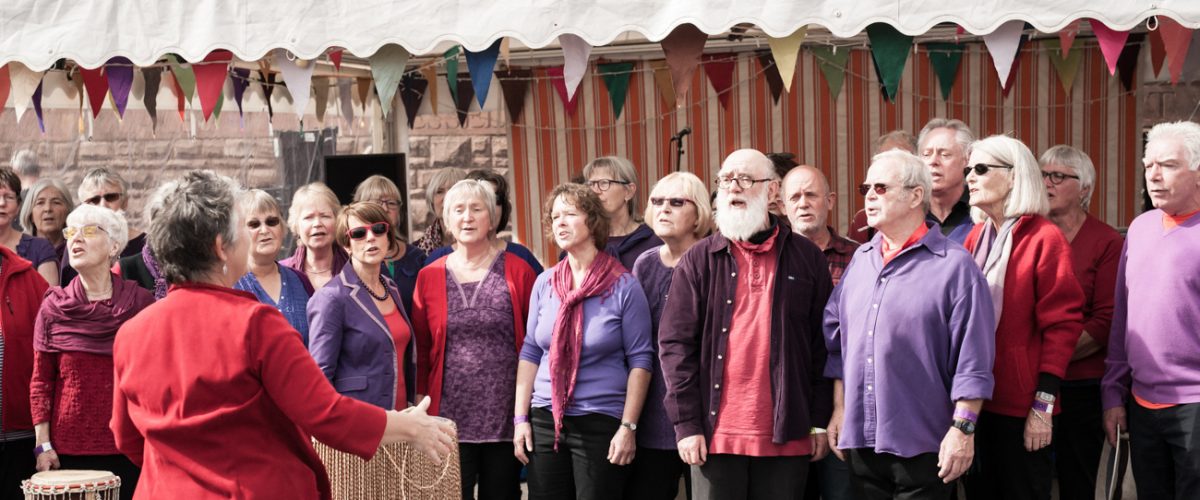 On our stage at Lower Brewery Yard you'll find entertainment throughout the day, including a morning of stories for the little ones about food from around the world, music from previous winners of the National Eistedfodd, the Beaufort Male Choir, and an exciting performance from Taiko Mynydd Ddu, the first Taiko drumming group in Wales.
Saturday 15th September
10:30 – 11:00: Alison Newsam
A selection of story morsels for children and parents from age 4 upwards. Sample stories about food from around the world and be prepared to take a story home. Stories to share around the meal table! (includes samples and stories – parents responsible for allergen information!)
11:45 – 12:30: Abercapella – info tbc
1:00 – 1:30: Lia's Kitchen
Lia Moutselou of Lia's Kitchen is bringing two of her most popular dips to Abergavenny Food Festival. Join her to taste and learn how to make the Greek Fáva and Skordaliá dips with ingredients sourced at Abergavenny Food Festival.  Inspired by her Greek heritage, UK grown yellow split peas and a wasteless approach to cooking, Lia will share her recipes, tips, inviting to you to take a place at a dining table that benefits your health and your planet.
1:50 – 2:30: Love Zimbabwe – info tbc
2:30 – 3:00: Beaufort Male Choir
Beaufort Male Choir was founded in the mid-19th century and is now recognised as one of the talented and innovative choirs in Wales. Over the years the choir has moved from a traditional approach of competitive singing (including winning the National Eisteddfod) to a more contemporary approach of concert performances which incorporate modern and more traditional material.
The choir have performed at the Royal Albert Hall, Kensington Palace, the Houses of Parliament, the Senedd, Eton College and many overseas venues. Recent TV appearances have included the BBC One Show with Sir Tom Jones and a BBC documentary about the mining industry.
The choir were featured on the Every Valley album produced by art rock band Public Service Broadcasting in 2017. The album reached number 4 in the album charts and led to the choir performing to full houses with the band at London's Hammersmith Apollo and the Brangwyn Hall in Swansea amongst other venues.
3:30 – 4:00: Taiko Mynydd Ddu
Taiko drumming comes from the festival traditions of Japan. These powerful, exciting drums and the dynamic performance style used by players are a highlight of any event. Taiko Mynydd Du was the first community Taiko drumming group to be set up in Wales and since 2009 we have been entertaining people at many different festivals and local events. This is our first time at the Food Festival and we're looking forward to being involved.
Sunday 16th September
11:00 – 11:30: Alison Newsam
A selection of story morsels for children and parents from age 4 upwards. Sample stories about food from around the world and be prepared to take a story home.  Stories to share around the meal table! (includes samples and stories – parents responsible for allergen information!)
12:00 – 12:45: 4 + 1 – info tbc
1:30 – 2:00: Velha Bataria – info tbc