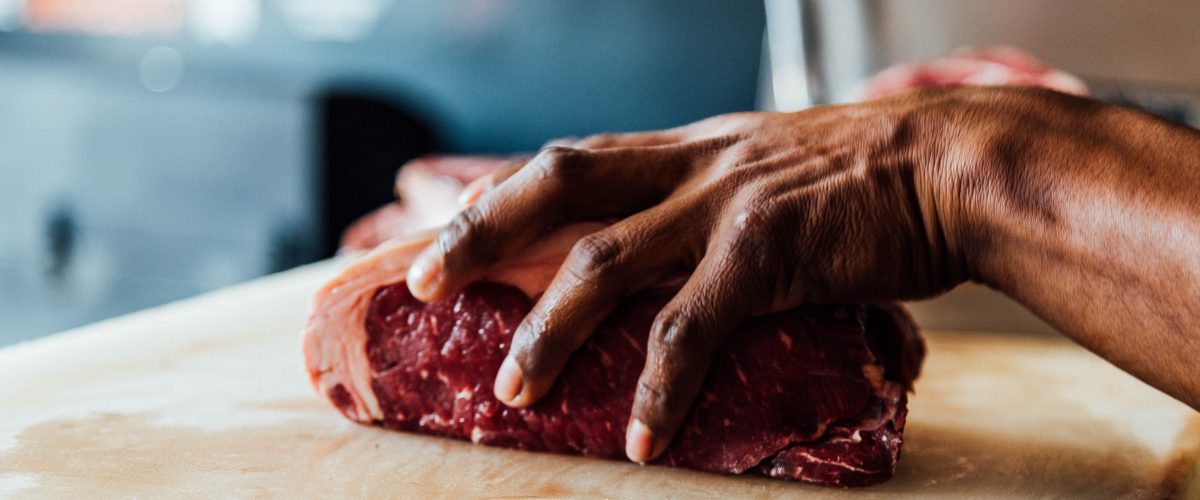 Special Tickets: Moo, Baa, Oink – The Butchery Events Bundle
For meat lovers at this years' festival we have created a very special butchery bundle of three individual tasting workshops taking place across the weekend, all focusing on a different kind of meat and the flavour profiles they provide. Get tickets to all three for the discounted price of £58.00
Event – Anatomy of a cow (Sat 21st at 1.00pm)
You may know your fillet from your rump, but how much do you really know about beef? We may all love a perfectly cooked ribeye, but do you know why a sirloin tastes like it does? Or how the flavour can vary between different steaks from the same animal. Join farmer, butcher and cook Farmer Tom Jones as he guides you through the complex world of the cow, along with chef Josh Byrne. Starting with an exploration of the different cuts and what the different muscles do on the body, they'll talk you through the 'big 4' (sirloin, rump, fillet, cote de boeuf) before touching on the newest and trendiest steaks, onglet and bavette, explaining through how to cook each to perfection. You'll also have the opportunity to taste samples from different cuts from the same animal, as well as from different aged ones, allowing you a unique tasting experience that will lead you through the different textures and flavours that can be found within a cow.
Event – Pasture-fed Mutton with Black Welsh Lamb (Sat 21st at 4.30pm)
Does what sheep eat make a difference to the taste of their meat and to our health? What about their breed and the soil they graze from? We all accept that the specific area, type of land and soil that a wine comes from affects its flavour, reputation and value. So why not with lamb and mutton? For three years Nick Miller and Sarah Dickins have been working with Jane Baxter from Wild Artichoke and LEON to run mutton and lamb tastings across the country. At each event the meat from four very different farms and different breeds has been cooked in exactly the same way. The difference in taste is enlightening. This year we will be drawing on the wide experience and expertise of chef Jane Baxter, and Cyrus Todiwala, chef and an Advisor to HRH The Prince of Wales' Mutton Renaissance, to discover more about how the breed of a sheep, its upbringing and diet all affect the flavour; giving chefs different options to play with. While we are used to words like blackberries, crisp, leather, tobacco to describe wine, there are few words to describe the different flavours from purely pasture fed sheep that have grazed on different soils. In this highly interactive session guests will be invited to taste different examples of mutton that has only eaten organic pasture and help develop a new set of words to describe the taste. Sarah and Nick of Black Welsh Lamb have been farming organically for around 20 years and have a flock of pedigree Black Welsh Mountain sheep. Their lamb, hogget and mutton is sold directly to families and also to restaurants across the UK.
Event – Everything but the Oink (Sun 22nd at 12.30)
Do you delight in the offaly bits of pork or hate the idea of eating trotters? If we are going to eat less, but better quality meat, learning how to consume the whole animal is essential. Join free-range local pig farmer, Martha Roberts, and writer and broadcaster Tim Hayward as they take you on a nose-to-tail journey of the pig.