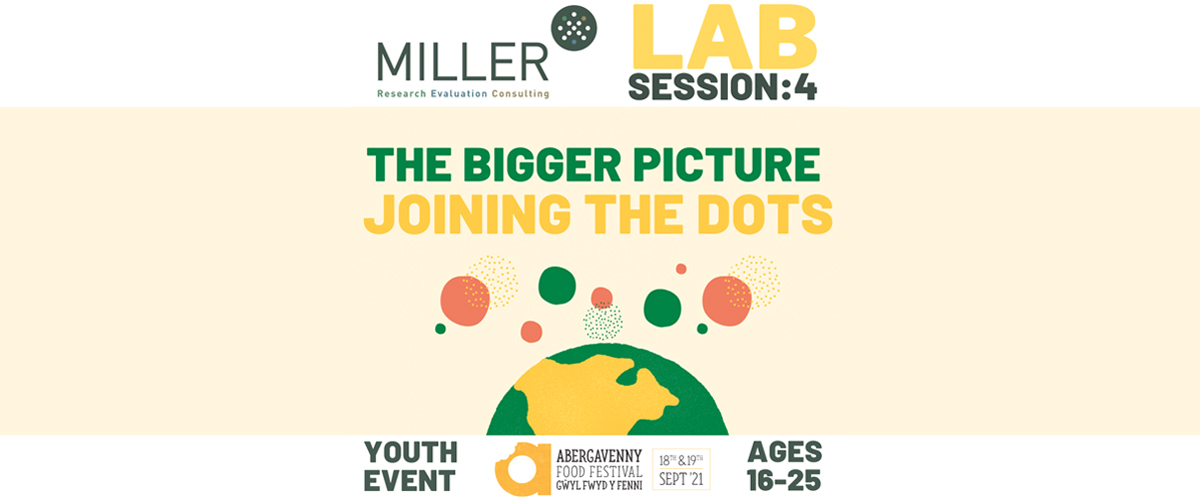 LAB: Session 4 – THE BIGGER PICTURE: JOINING THE DOTS
Please Note: The event is free, but you must book online in advance.
WHAT DOES A HARMONIOUS FOOD SYSTEM LOOK LIKE, AND WHAT CAN YOU DO TO HELP? JOIN OUR EXPERT PANEL TO START PLANNING FOR THE FUTURE, SPEAKING OUT, AND ACTING UP.
Throughout the day, within the Miller Research Lab, we will have explored all corners of the food system, discussing separate issues, priorities and opportunities, but how does it all fit together, how do we join the dots? Between us, with the help of our expert panel, we will take a step back, look at the bigger picture and discuss what a harmonious, holistic food system might look like, what is needed to make it happen, and what we can all do now to help. We will then invite you to explore the rest of the festival, to carry on conversations, meet more producers, chefs and campaigners.
Confirmed speakers so far:
• Andy Middleton – Wales Transition Lab
• Sue Pritchard – Food, Farming and Countryside Commission
•            Jane Powell – Welsh Food Manifesto
•            Katie Palmer  – Public Health Wales / Food Sense Wales
Whilst this is a FREE event, it is ticketed. We ask attendees to book their place online as each session has a limited capacity and we want to ensure enough space for all those that plan to join us!
You can find details of all the Lab Sessions here and book on to whichever sessions you want, or even join us for the whole day!
Join our Youth Panel
If you're interested in being part of our Youth Panel, you can find out more and sign up here. Miller Research will then be in touch with more information.
You only need to sign up to the youth panel once, but will need to sign up to all sessions separately.