This year's line-up is a gift for anyone coming into the Festival on a Stroller Ticket, because for 2021 nearly all our brilliant guests will be performing on public stages and at outdoor venues for all with a Stroller Ticket to see and enjoy. Here's how the weekend is shaping up. There will be dems in the Market Hall, cooking with fire at the Castle, and talks and debate in the Dome. (Event times are subject to change).
Saturday 18th September 2021
Route to 2030: taking action now to solve the health, nature & climate crises
SAT 11.00 am – 12.00 noon

The debate strand kicks off on the Saturday with 'Route to 2030: taking action now to solve the health, nature and climate crises.' A panel of leading figures discuss the actions governments in Wales (and other UK nations) are taking that have the potential to bring about real change, exploring how governments can be both practical and radical in face of the challenges ahead. Speakers include: Henry Dimbleby, (Independent Lead, England National Food Strategy), Sophie Howe (Future Generations Commissioner for Wales), Sue Pritchard (Chief Executive of the Food, Farming and Countryside Commission – FFCC) and Simon Wright (food writer, restaurateur and broadcaster). The event will be chaired by Jane Davidson, Chair of the Food, Farming and Countryside Commission's Wales Inquiry.
Med – Claudia Roden [Livestream] and Xanthe Clay
SAT 12.30 – 1.30 pm

Over her long career of food writing, Egypt-born Claudia Roden has been instrumental in developing our understanding of Middle Eastern and Mediterranean food, not just as a series of national cuisines, but as an interlinked and evolving story set against a common historical background. She talks from her home in North London via livestream with The Telegraph columnist Xanthe Clay about her new book Med: A Cookbook.
Breadheads
SAT 2.00 – 3.00 pm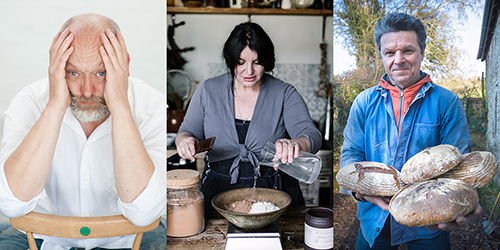 Pizza, flatbread, chapatti, sourdough; bread comes in many forms and we have been making it in some form since the dawn of time. Today over 50% of the world's calories come from just three plants – and wheat is one of them. With such versatility, longevity and ubiquity, it's not surprising that bread has always been a subject of controversy. Join our panel for a highly opinionated and animated discussion as they try to get to get to the heart of the question. What is good bread?
Chair: Pete Brown – Food and drinks writer, Author of Pie Fidelity: In Defence of British Food.
Panellists:
Tim Hayward – Author of Loaf Story: A Love Letter to Bread. Loves a Club Sandwich
Rob Penn – For his book Slow Rise: A Bread-Making Adventure Rob learned every stage of the process – from growing the seed to milling the flour – and immersed himself in the story of wheat from its first domestication to modern industrial baking. More names to be announced.
Musical Food Quiz
SAT 3.30 – 4.30 pm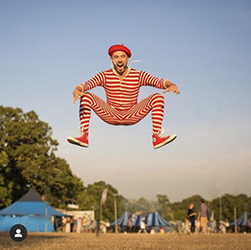 Form a family / friendship team for a Musical Food Quiz, hosted by Monsieur Bon Bon and Madame Saucisson.
Sunday 19th September 2021
Debate: The Crisis in Hospitality: A victim of the pandemic or an accident waiting to happen?
SUN 11:00 – 12:00 noon

Hamstrung by staff shortages and loaded with debt, the hospitality sector is struggling to recover from the pandemic. But was this all foreseeable and what can be done?
Chair: Sarah Dickins – Economics Correspondent, BBC Wales.
Panellists include: 
Simon Wright – Simon is a partner in the family business Wright's Emporium near Camarthen and has been involved in the restaurant sector in Wales for many years. During the pandemic he was instrumental in the creation of the Welsh Independent Restaurant Collective to represent the views of the sector to the Welsh Government
Calum Franklin – Calum got a job aged 16 as a kitchen porter at a local restaurant in South London and felt immediately at home, started his cookery training at the Michelin- Starred Chapter One and has cooked his way through many top kitchens before becoming Executive Head Chef at The Holborn Dining Room in 2014.
Nokx Majozi – South African born and US trained, Nokx has spent 20 years working in UK restaurants and knows the industry from the ground up. She is currently sous-chef at Holborn Dining Room and heads up their celebrated Pie Room.
Ollie Hunter – A former Masterchef semi-finalist, Ollie and his wife Lauren run The Wheatsheaf in Chilton Foliat, which won Sustainable Restaurant of the Year 2019. He bases his business around three principles: zero waste; organic; and local sourcing. He is the author of two books 30 Easy Ways to Join the Green Revolution and Join the Greener Revolution
Sam Evans and Shauna Guinn – Sam and Shauna created Hang Fire Kitchen first as an award-winning street food business. Cookbooks and TV work followed and in 2016 they launched their much-loved Hang Fire Southern Kitchen restaurant in Barry. Recently faced with chronic staff shortages and the state of hospitality recruitment post-pandemic they have had to take their most difficult decision to permanently close the restaurant.
Gilly Smith talks to Tim Hayward – Cooking the Books
SUN 12:30 – 1:30 pm
Gilly Smith, presenter of the podcast Cooking the Books, talks to Tim Hayward about his book Loaf Story: A Love Letter to Bread.
Food Future: how we can adapt our food systems to meet the challenge of climate change
SUN 2.00 – 3.00 pm

Chair: Sarah Mukherjee MBE – Sarah is CEO of the Institute of Environmental Management and Assessment, the membership organisation for environment and sustainability professionals. She was the BBC's Environment Correspondent for many years working across radio and television, and will be co-chairing the Oxford Farming Conference in 2022.
Panellists:
Dr Angelina Sanderson Bellamy – Angelina is Associate Professor of Food Systems at UWE Bristol and her research across the UK and Latin America looks at how to make our food systems more sustainable, healthier and just.
Chris Smaje – 18 years ago Chris swapped an academic career as a social scientist to help create a small farm in Somerset. Over the years he has written for The Land, Dark Mountain and Permaculture magazine as well as various academic journals. He has just written his ground-breaking debut book Small Farm Future, a radicalvision for the UK and beyond.
Phil Haughton – Phil's 25 year mission has been to support food equality and justice. He started out packing veg boxes in a Bristol kitchen and has grown the business into the Better Food Co, an organic retail business across three stores in Bristol and a Community Farm, employing over a hundred people. He has written his story in Food for Thought: Celebrating the joy of eating well and living better.
Dan Saladino – Dan is an award-winning food journalist, and presenter and producer at BBC Radio 4's Food Programme. His new book Eating to Extinction – The World's Rarest Foods and Why We Need to Save Them makes the case for the urgent need to reclaim our food system's rapidly disappearing genetic biodiversity.
Legends – Shaun Hill and Rowley Leigh in conversation with Matthew Fort
SUN 3.30 – 4.30 pm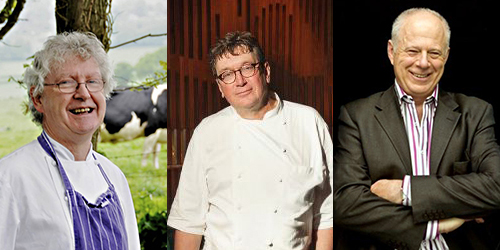 Shaun Hill at 74 still 'rattles the pans' as chef-patron at Abergavenny's Michelin-starred Walnut Tree Inn. Rowley Leigh has now retired from front-line cooking but still writes for The Financial Times and advises chefs and restaurateurs. Both have cooked and run kitchens for many years at the highest level and during that time they have witnessed and played key roles in the total transformation of Britain's dining culture. Food writer and restaurant critic Matthew Fort, who himself penned his first article for The Guardian in 1989, helps them look back over glittering careers.