The Festival is put on by a part-time team of seven and a small board, but over the Festival weekend we employ over 120 local young people to steward, build and maintain sites, wash up, prepare food, recycle and clean. For many it is their first paid work and has led to further employment.
Applications are now open for this year's festival and we have vacancies available in the following areas. To find out more details about the different roles available and to submit your application, click here.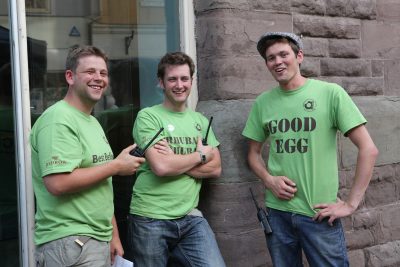 Crew
Our crew members work as part of core team setting up and packing down the festival. This includes loading vans; building and dressing tents; maintaining site areas during the event; packing down and assisting staff and stallholders when needed. 
It's a popular and rewarding role for anyone who likes to keep fit and work as part of a team. You need to be confident carrying heavy items (or willing to learn), as well as have a positive and hard- working attitude. You will be required to work extra hours in the week before hand.
Front of house, hospitality and catering
Front of house staff are required to help at different venues across Abergavenny. The role varies from serving food and drink and helping with cookery demonstrations to welcoming guests to private functions. You must be well- presented, confident and happy working in a kitchen environment. This job is perfect for those who have previously worked in hospitality or a catering environment or if you would like to gain some experience.
Recycling and Site Maintenance
Our recycling crew work hard to maintain the food festival site. It's a hands- on role that requires you to be a positive and energetic team player. If you are interested in sustainability and the environment and would like to help keep Abergavenny clean, then please tick the box below.
Festival Steward
Our festival stewards are there to ensure that the food festival runs smoothly. You are the eyes and the ears of the event and the main ambassadors for the festival. It's a fun role and you'll meet lots of people but you will be relied upon to work hard and make sure the public are kept well informed. Duties vary at each venue but may include giving directions, providing event information, manning road blocks and checking wristbands.
Box Office and Information Stand
Over the festival weekend we operate three large box offices where tickets and programmes are collected and sold. This is a popular post for those who enjoy meeting and talking to people. You must have strong numeracy skills and/ or experience working in a fast paced environment as you will be responsible for providing good customer service, dealing with money and must remain calm under pressure.