Festival Opening Times
Saturday 9.30am to 6.00pm*
Sunday – 9.30am to 5.00pm
*The Castle venue is open until 5.00pm on Saturday with last entry at 4.30pm. This is to allow time to prepare for the Party at The Castle.
Site Map
The 2023 map below gives an overview of the venues. This will be displayed on a fold out flyer – to be posted out with Stroller tickets in early September. The flyer can also be picked up on the day from the car park, the information stand, and from all market venue entrances. It also includes exhibitor listings by venue, details of all timed guest performer events, and family entertainment.
PLEASE NOTE: THE TICKET COLLECTION POINT IS FOR PRE-PURCHASED TICKETS ONLY
NO WALK-UP ON THE DAY. ALL TICKETS ARE BEING SOLD IN ADVANCE.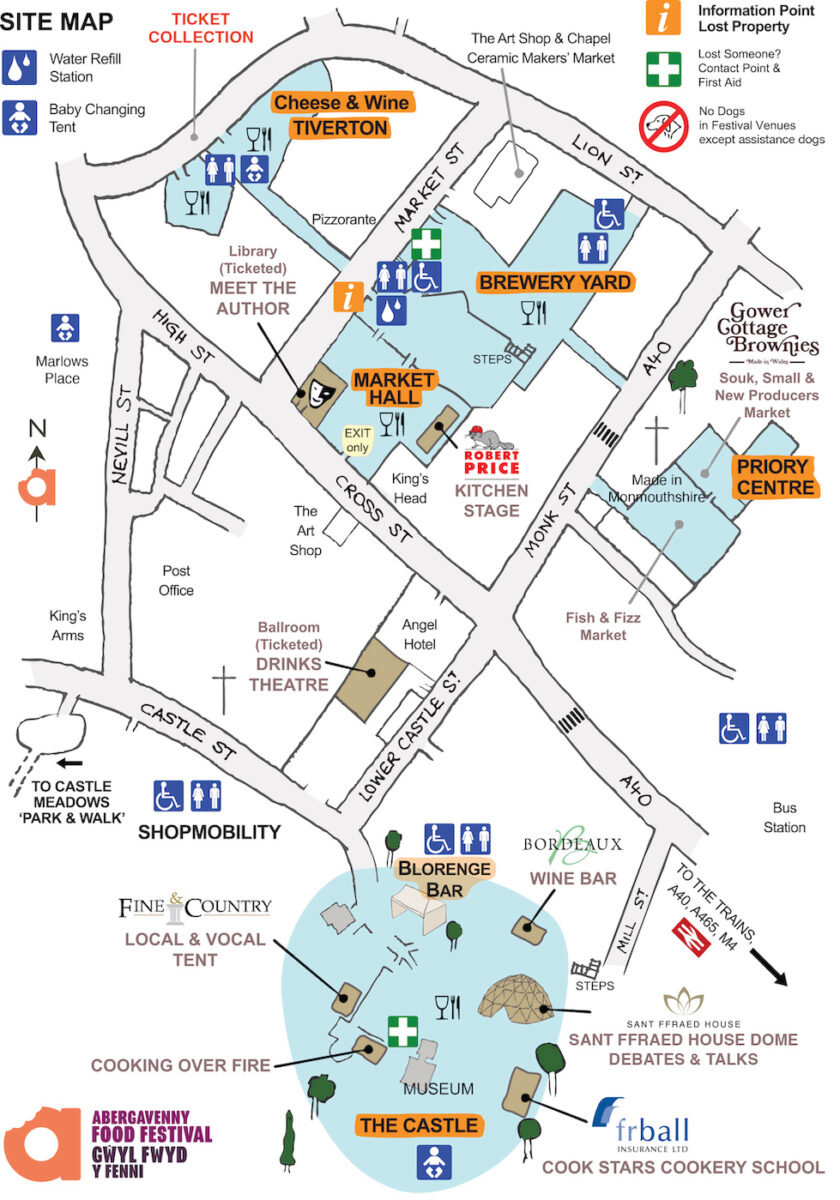 Festival at a Glance
If you've received tickets by post, then you will have read our handy fold-out flyer featuring Andi Oliver on the front. This gives details of all the exhibitors by venue, and all the guest performer events across the weekend: chef dems, cooking over fire, talks & debates, Drinks Theatre masterclasses, and Meet The Author Sessions. If you are buying for pick-up (posting out stops Fri 5 Sept at 5pm) then do be sure to collect a flyer when you get your wristbands from the ticket collection point in Lion Street.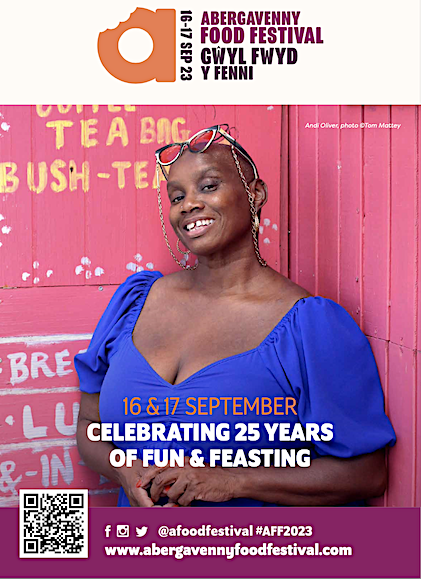 Transport
By Bus: The bus station is a five minute walk from the Festival entrance. Stagecoach Enquiries
Abergavenny is a small town with limited parking and so we encourage our visitors to use public transport or car share when possible. Find information on getting here below:
By Rail: Abergavenny is served by frequent train services. From the station it is a five to ten minute relatively level walk to the Festival. Check train schedules at Trainline or National Rail
By Coach: Regular long-distance services to Newport and train or bus links from there. National Express Enquiries
By Car: Please use the postcode NP7 5HD for the town centre.
Parking
Castle Meadows Festival Car Park: Run by local community organisations as a fundraiser for Friends of Castle Meadows and local sports clubs.
Type: Field. Capacity: 2,000 cars. Price: £5 per car for the day – payable at point of entry. Cash only. Postcode: NP7 5DG
Location: The car park is accessed from Merthyr Road, which is a 2-3 minute drive from the A465. There is pavement all the way to the Festival which is roughly a 6-10 minute walk uphill.
Opening hours: 9.00am to 6.30pm Saturday (gates locked at 6.30pm) 9am to 5.30pm Sunday (gates locked at 5.30pm). Strictly no overnight parking. Last entry to car park: Saturday: 4.30pm, Sunday: 3.30pm. Parking is at your own risk. No overnight parking. No dogs are to be left in cars.
All the town's regular car parks offering disabled parking will be open with exception of Lower Brewery Yard, Tiverton & Horsingtons (which are used by the Festival for stalls over the weekend). Extra provision for disabled parking in Castle Street car park. See all town car park details here
Access
Abergavenny Shopmobility: See details here. Shopmobility Festival opening times are Saturday & Sunday 09:30am – 4:00pm. Book your scooter in advance.
All of our main market venues are accessible to wheelchair users and mobility scooters. We have disabled toilets in multiple different areas of the Festival. Upper & Lower Brewery Yard are separated by steps, but there is wheelchair access between the two via Market Street. Please be aware that there are some uneven surfaces.
Individually Ticketed Venues: Drinks Theatre events take place in The Angel Hotel Ballroom and Meet The Author events in Abergavenny Library. Both these venues are fully accessible.
Carers Tickets: Please get in touch for more information about tickets for carers.
Can I bring my dog? No dogs, with the exception of assistance dogs, are allowed in any of the internal or external market venues. As they may spend much of the day in your car, we advise that you leave your dog at home.
If you have any further questions, please call 07863 081303 or email affinfo@abergavennyfoodfestival.com