Dance, dance, dance…
Our Saturday night Party at the Castle sold out in record time. If you've been before, then you know it's a special and magical event set amidst the romantic castle ruins with high-octane entertainment, and fabulous food and drink to buy. We're delighted to announce the two bands who'll be performing. A fantastic contrast of styles to get you on the dance floor… Tickets will be posted out from mid-August.
YAABA FUNK (photo below)
Yaaba Funk have been an important part of the contemporary Afro scene in the UK since their formation in Brixton in 2006. The irresistible appeal of this energetic collective is the mix of 21st Century Hi-Life, Afrobeat and Funk – with the bass-heavy sounds that exemplify much of London music. Fronted by vocalists Richmond Kessie and Helen McDonald, Yaaba Funk bring hard-hitting Afro drums and percussion, tight horns and psychedelic guitars into the mix.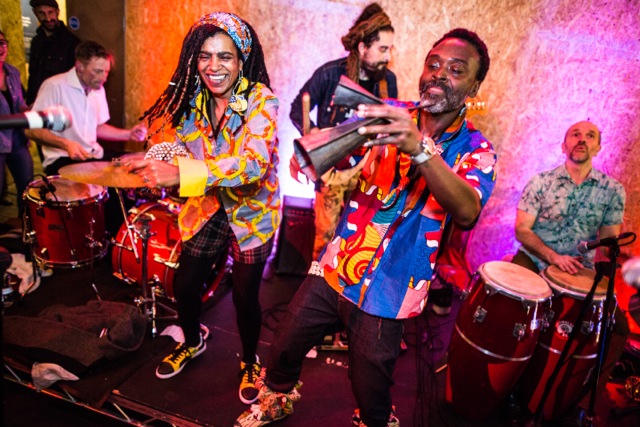 CARDINAL BLACK (photo below)
Welsh alt-rock quartet Cardinal Black aren't your typical new band. Their debut single Tell Me How It Feels toppled Noel Gallagher from the #1 spot in the UK Rock Charts. It was a dramatic debut by any definition. Frenzied press coverage followed on both sides of the Atlantic with half a million plays across their first two singles. Tom Hollister(vocals) Chris Buck (guitar) Adam Roberts (drums) and Sam Williams (bass). Smoky vocals, cultured song writing and outstanding musicianship. Smart, sultry, effortlessly smooth. And not many bands can boast having 'The Best New Guitarist in the World' (Music Radar 2020) as a member.