Ahead of our full programme going live later this month, we wanted to take the opportunity to say a huge thank you to all the sponsors and supporters who make it possible for us to put on the festival each year. As a small not-for-profit organisation, sponsorship is a vital part of our business. We are particularly proud to be working with an amazing group of like-minded organisations, committed not only to the principals of the event, but to co-creating delicious festival content for all our visitors to enjoy.
For our 2019 festival, we are proud to welcome back world leader in ethical and sustainable finance, Triodos Bank. This is the third year that Triodos Bank will be sponsoring the festival, and the second for them returning as sponsors of the 'Farming Matters' stage in the Festival Farmyard. Don't forget to find them in the Market Hall, or visit them at the Triodos café next to the Farmyard stage.
The world of non-alcoholic drinks is exploding for 2019, as customers seek out all the taste and none of the compromise, we are excited to be partnering with brands at the forefront of this explosion. Non-alcoholic fermented drink pioneers Real Kombucha return for 2019, selling their delicious bottled Kombucha's from their Land Rover in the Street Food and Night Market. They will be teaming up with The Guardian wine writer, Fiona Beckett, and sponsor Seedlip to deliver a Drinks Theatre masterclass on Non-Alcoholic Cocktails. This will be Seedlip's second year at the festival, and we're delighted their new sister brand Æcorn Aperitifs will also be joining us this year too. Discover their non-alcoholic aperitifs at their stand in the Market Hall.
For 2019, we are pleased to announce two new sponsorship relationships. Craft food suppliers, Unearthed, will be joining us as sponsors of the Tiverton Producer's Market. Find out more about how they support small food producers from across the globe at their stand in this exciting small producer market.
Also joining us this year is Maple from Canada who will be rounding out our Cooking over Fire programme with a Sunday afternoon demonstration featuring Hang Fire BBQ, and a selection of exciting guest chefs. They will also have a stand up at The Castle and will be teaching us everything there is to know about this ethical, natural ingredient, and learn the myriad of uses for it beyond being drizzled over pancakes.
Hereford based single estate vodka and gin company Chase Distillery return for their 6th year as our premium spirits partner. Based just down the road in nearby Herefordshire, guests will be able to enjoy a special festival cocktail menu from their horse-box bar in The Castle grounds, purchase bottles from their stall in the Market Hall, and sample their products at various drinks masterclasses over festival weekend. Mediterranean & Middle Eastern ingredients specialists Belazu bring their exceptional tasting tent back to The Castle. Expect demos, tastings & tonnes of delicious produce to stock up on. Interested in understanding more about how these products are made? Don't miss Belazu's Beautiful Balsamic Masterclass, taking place on Saturday 21st September in the St Mary's Priory Centre.
In the Castle grounds, online grass-fed meat purveyors Pipers Farm will be back alongside their, and our friends, Riverford Organic Farmers. Pipers are teaming up with chef Charlotte Pike for a class on Curious cuts and how to use them showcasing nose to tail butchery and teaching visitors how to make use of the often forgotten and offaly bits. Pipers Farm founder, Peter Greig will once again take a slot on stage in the Dome to teach visitors about the importance of grass-fed livestock for our soil and health and they'll be running an additional programme of talks and demo's in their beautiful bell-tent. Riverford Organic Farmers are back showcasing their delicious range of produce that's good for the soil as well as our health that you can get delivered directly to your door. Watch out for Padron Pepper Roulette or the return of their Human Veg Machine!
The mother of all apple cider vinegar, Willy's ACV will be back in the Market Hall. This year they'll also be sponsoring Angela Clutton's masterclass The Vinegar Cupboard, where guests can expect to learn all there is to know about making and using vinegar.
Borough Market's Heritage Cheese will be sponsoring our Blue Cheese & Prosecco event in the Masterclasses venue found in St Mary's Priory Centre. Their traditional cheeses, sourced from across Britain and Ireland, will be available to sample and buy in the Street Food and Night Market.
Kadai Firebowls return to sponsor our Cooking over Fire stage and keep us warm as we party in The Castle grounds. Visitors can peruse and purchase their beautiful firebowls and accessories from their stand in The Castle.
Supporting our educational programme of cookery classes for children are two companies dedicated to teaching young people about food, nationwide social enterprise Cook School and Rougemont Independent School. They are co-sponsoring our kids' cookery school and will be delivering free cookery classes for kids all weekend long, find them at The Castle.
We are also thrilled to have local support from our long-term festival partners, without whom the production of the event would not be possible. With thanks to; engineering and construction firm Griffiths, the Abergavenny outlet of British furniture and interiors company Timothy Oulton, wine auctioneers Straker Chadwick, the Marquess of Abergavenny, and both the Abergavenny Town and Monmouthshire County Councils.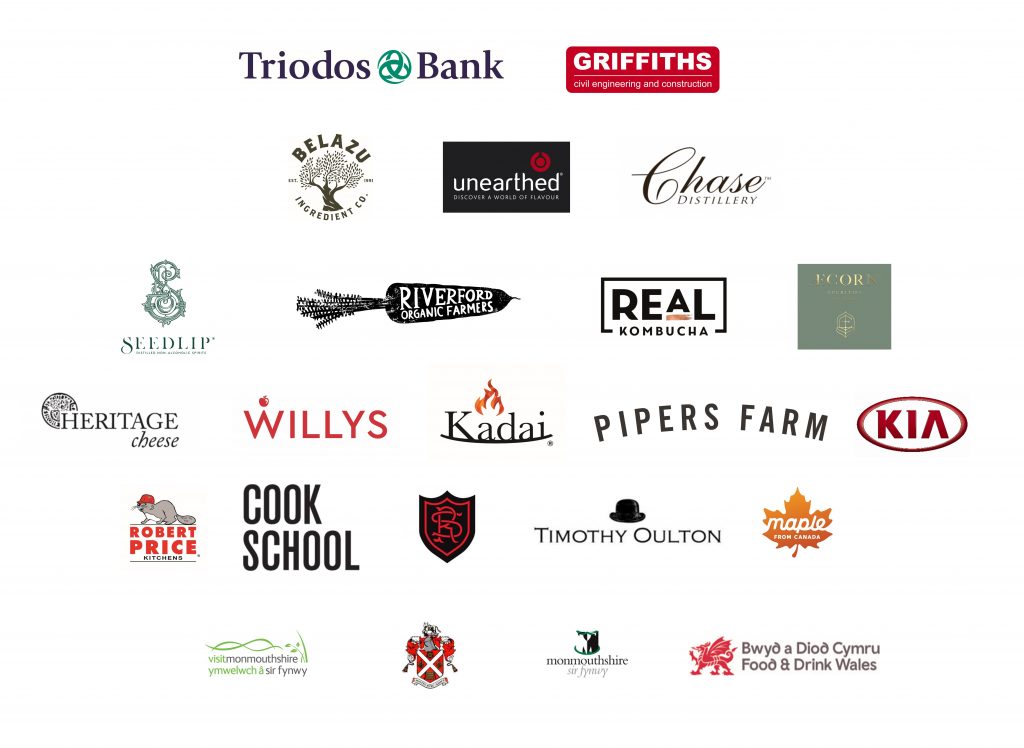 We also want to say thank you to our 2019 supporters:
The Angel Hotel, ABC Motor Factors, Chelsea Green Publishing, County Marquees, Dragon Cheese, Flint & Flame, Joe & Seph's, Hybu Cig Cymru, Llaeth Y Llan, Llanllyr Source, Love Lily, Premium Dental Implants, Parry's, Sugar Loaf Catering, Tiny Rebel, Tracklements, The Old Board Co & Wogan Coffee.