Congratulations to Carmarthen Ham, our Best in Show Winner for 2023, chosen by our special judge, Scott Crichton, who has been on numerous tasting and judging panels from the World Cheese Awards to the Great Taste Awards. He knows good food and good producers when he sees them.
Scott visited every stall on Saturday to find out more about each producer and to sample and/or view all the produce.
Carmarthen Ham came out tops. Why? They had the magic combination: a fantastic product that delivered on quality and taste, plus passion and knowledge, an engaging and welcoming manner, and a beautifully clear and simply presented stand which drew customers in. Their friendly approach encouraged visitors to stop, chat, connect and buy.
Hear from Matthew of Carmarthen Ham, on taking receipt of the award: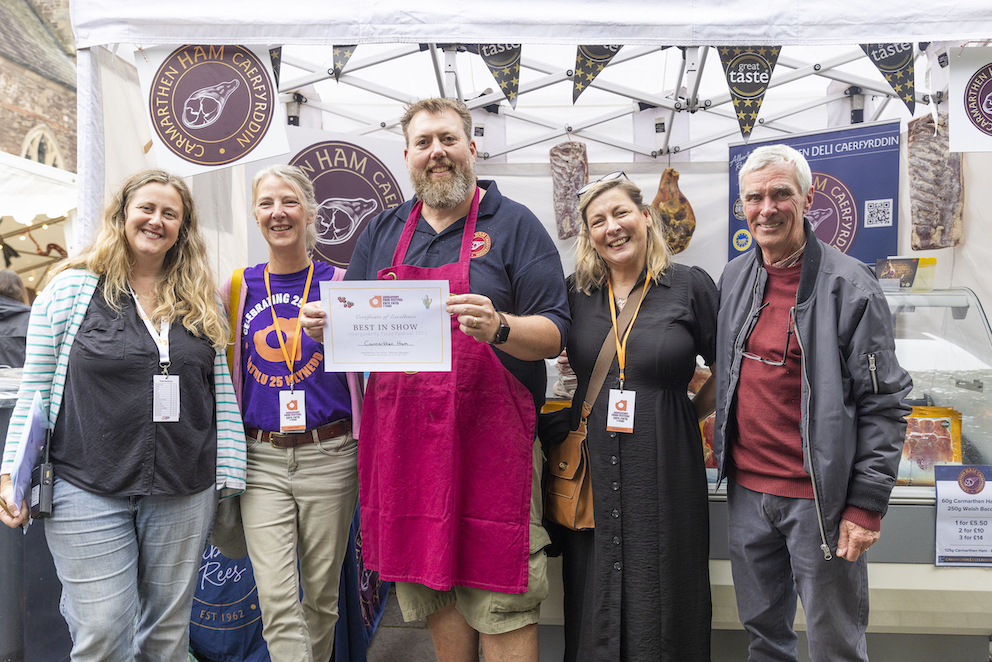 (l to r: Ceri Elms (Trader & Markets Manager), Lucie Parkin (Festival Director) Matthew Rees (Carmarthen Ham), Kate Jenkins (Gower Cottage Brownies – sponsor of the New & Small Producers Market), Scott Crichton (judge).
Carmarthen Ham (in The Priory Courtyard) have a prize of free stand of their choice at AFF 2024, plus social media & marketing support. The prize was presented by Kate Jenkins of Gower Cottage Brownies, who is sponsor of the New & Small Producers Market.
A Special Mention Certificate was awarded to Drinks Kitchen (in Tiverton Market) for the incredible taste of their product, knowledge, enthusiasm, warmth, and beautiful stand presentation too.