Artist / Maker Bettina Reeves has been the creative inspiration behind the Festival's much anticipated annual installations which animate the beautiful Victorian Market Hall. Each year there is a new theme. Her brilliant inventions, unveiled ahead of the Festival weekend, remain in place throughout the year. Thanks to support from Abergavenny Town Council, both local residents and visitors to the town can enjoy them.

Careful research and preparation
The Food Festival has commissioned Bettina to decorate the Market Hall since its inception in 1999. Previous themes have included: kitchen gardens, wildlife of the River Usk, angelic angels, sea-life, food on plates, utensils, a herd of sheep, bees and butterflies, fish, flowers, and barn owls. Researching and painting her subjects is followed by three weeks of intense design and making (approximately 1500 hours), working with volunteers of all ages to realise her vision.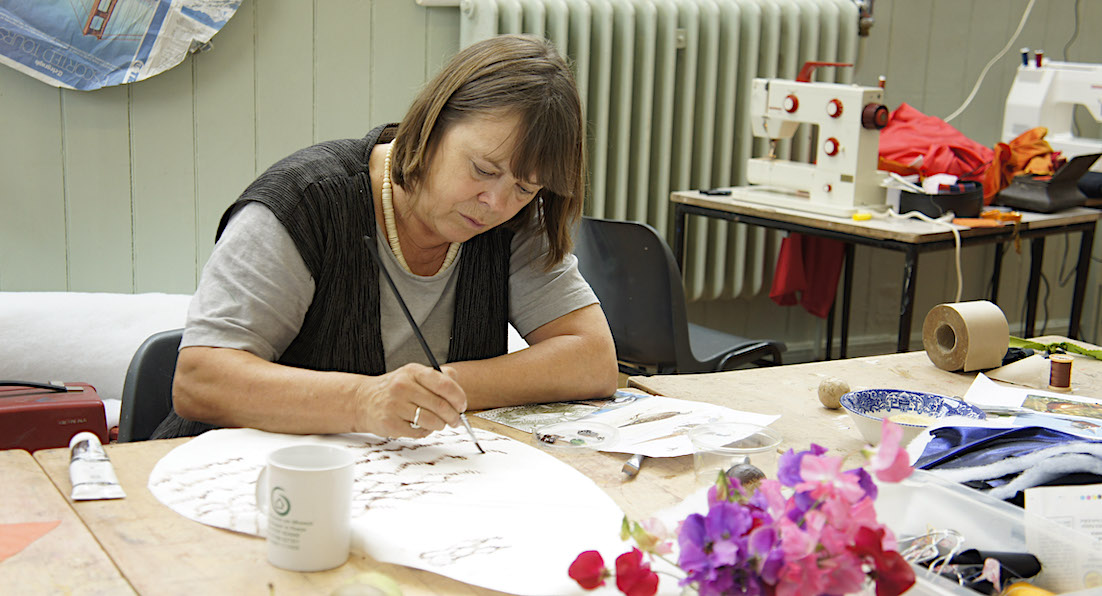 Lots of local talent
"My enthusiastic team has gained in confidence and creative skills over the years," says Bettina. "They have sculpted with willow, wire, cardboard and paper, and many have used their sewing skills – by machine and hand – to great effect. Working with willow has been a particular joy; a lovely organic and pliable material for celebrating creatures who move so beautifully in the natural environment."
She knows the project is eagerly anticipated. "New friendships are formed. There is great a sense of camaraderie, creativity and pride in the finished product. Long hours, hard work and tenacity go into the making, but it's also great fun; the pleasure of a unique shared experience."
Larger than life
"When viewed from below, it's hard to get a feel for the true size of the sculptures. We really have to scale-up for impact. Pigs, sheep, goats and hares are about twice life-size. The chickens and barn owls, which were very popular, are ten times that. The otter was twice the height of a man."
The personal touch
"We once made Angelic chefs, but didn't want to cause offence by naming them. It happened anyway. 'Nigella', for instance, was an obvious look-alike! We had trouble sourcing footwear large enough, but finally sourced drag queen red stilettos in a size 13, which did the trick."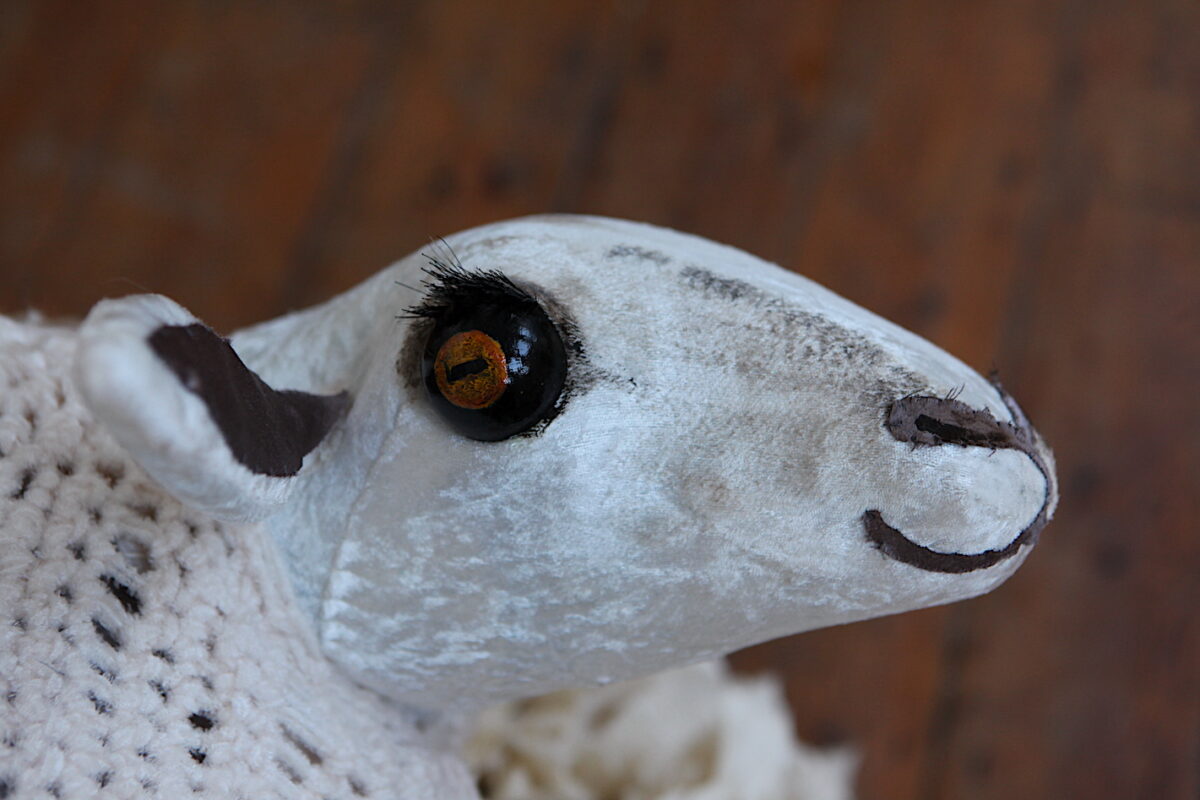 Sheepish tales
"When you spend ages making a creature, it's like having a pet. Take the sheep. One had three legs, and was named Tripod after a member of Festival-founder Chris Wardle's flock. Another she-sheep of superior demeanour wore a pearl necklace in honour of her owner."
Secret lives
"We often give the creatures names and back-stories. The female flying kingfisher has caught a fish… the male is perched on a branch waiting for his missus to bring him tea … the giant grasshopper staged a getaway and shimmied up a pillar…"
Glitter 'n' grunge
"Cheap sequin fabrics give sparkle, used wildly or judiciously, and layered with net or organza."
"The otters were sculpted in willow and covered in linen scrim. Dyed calico and hand-painted cotton jersey are mainstays (as used for crabs and pigs) and we do lots of appliqué – brown stripes on the red kites' wings for example. The spots on the trout alone took days to stitch. The hairiness of the wolf spider was evoked with old jute bailer twine. Butterfly wings are painted silk pollinator banners."
Much travelled
"The Barn Owls ended up in the atrium of the new Life Sciences building at Bristol University where the graduation ceremonies are held, and have become well known in this new context. And a sheep called Mavis was chauffeured to its new owner in London by (then) AFF Chief Exec, Kim Waters."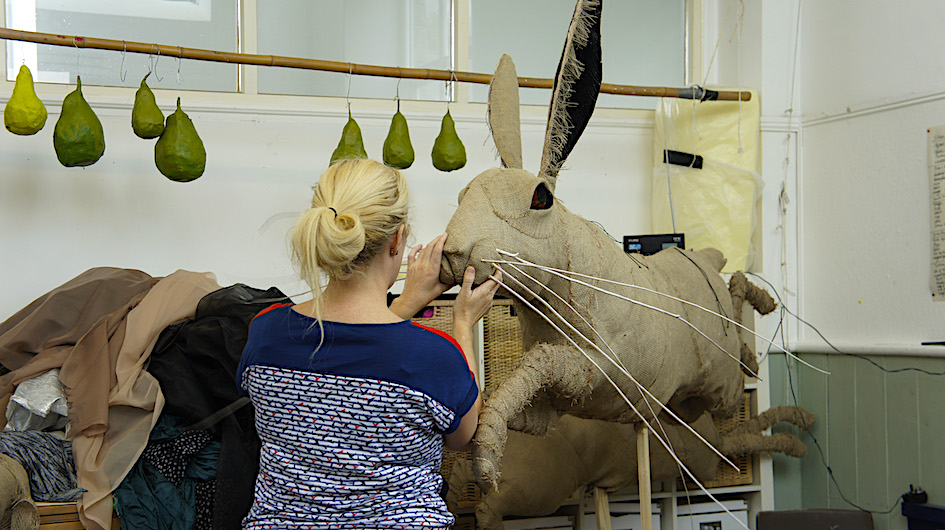 Creative teamwork
"Tina put me onto fish – a John Dory – in 2018. I got so attached to this fish that I named it 'Dom Alexander Joly' and secretly put the initial DAJ on the body. Why? I always mix up 'John Dory' with the comedian 'Dom Joly', and the process of making this fish made me feel like 'Alexander McQueen' so I used 'Alexander' as a middle name!" Mayumi Takahagi
"I've always enjoyed model making and DIY, and the Food Festival decorations allow me to indulge myself. Not to mention the glorious food we get to eat. Funnily, my most treasured memory is making a garden spade." Oliver Barton
"In the year of the sheep we became experts in rag-rugging and crochet. First time round, I quilted lemons to go on plates of fish. They looked so impressive and I was so proud of what I'd done. That's it actually – the camaraderie and feeling of pride about what we achieve in that big group, always in a ridiculously short time. And Tina bringing it all together. It's a miracle." Cath Barton
"Creating with others is a highlight of my year. Tina has such creative vision and knows exactly how to achieve it. Hard work, but the results are amazing! Covering the willow frame of the second otter was a huge task and took at least three people working together to make all the pieces fit. It was wonderful seeing it gradually come to life. And all the joins were in herringbone stitch, which I really enjoyed." Judith Skeels
I have volunteered at Tina's workshops for several years now, and always really enjoy them. My skills are mediocre, but I learn something new every time, and wonder at the abilities of the truly skilled as they turn willow and fabric into almost living creatures. The pride at seeing the whole ensemble in the Market Hall is immense. Caroline Fairclough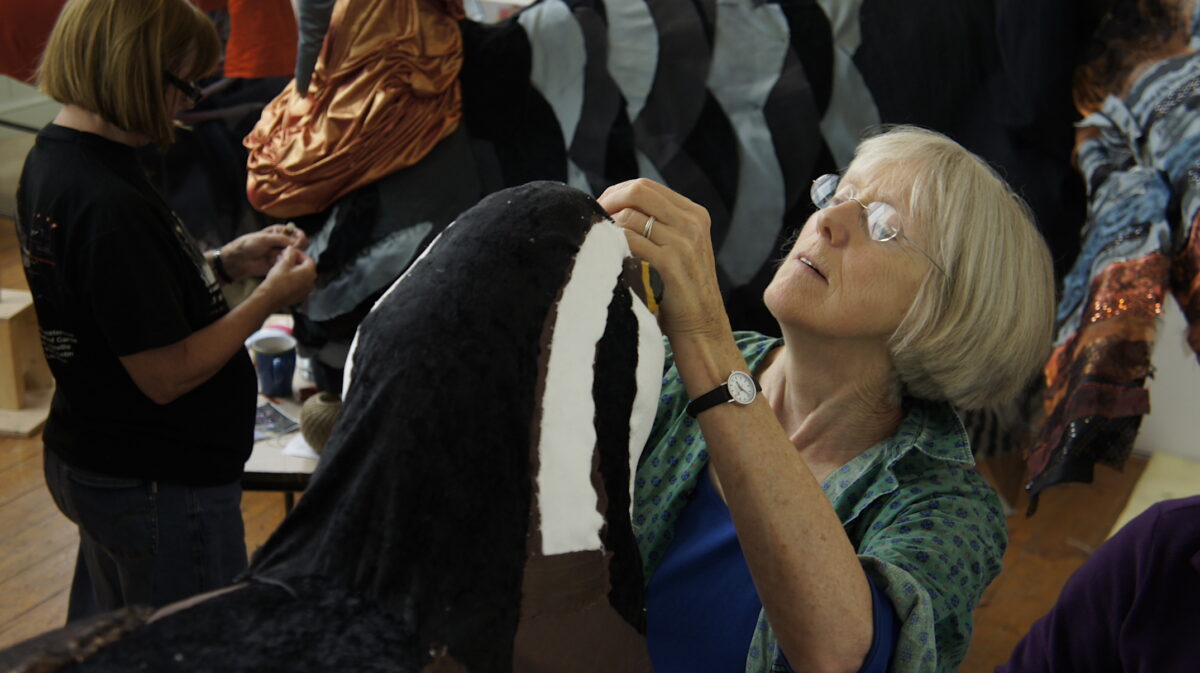 This is an abridged article, first published in the 2021 Festival Guide