At Abergavenny Food Festival we're fortunate to work with some incredible sponsors and supporters who make it possible to put on the food festival every year. We work with food producers, farmers, drinks companies and local businesses of all kinds, we also work with a bank. It is our successful partnership with Triodos Bank that often garners the most queries, why exactly does a bank sponsor a food festival?
Rather than tell you ourselves why we work with Triodos Bank, we wanted to ask Simon Crichton, from the bank's specialist food, farming and trade team, why they wanted to work with us, and give him the chance to explain why one of the world's leading sustainable banks is so passionate about food and farming.
Read on for our Q&A with Simon, and head to their website now to find out all about Triodos Bank's Organic September and for your chance to win a bumper batch of prizes.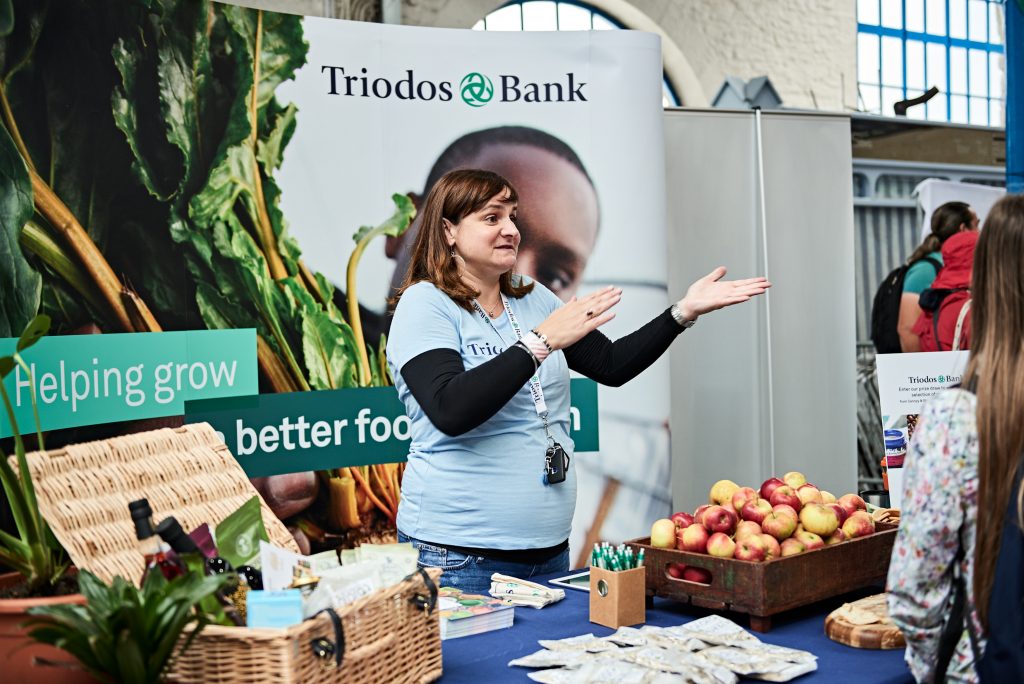 Why does Triodos Bank want to support a food festival?
Triodos Bank is a global pioneer in sustainable banking – using the power of finance to only support projects that benefit people and the planet. The way that food is grown and produced can have either a positive or negative affect on people and planet. We want to support the farmers and food businesses that are working toward truly sustainable and ethical practices – by maintaining high animal welfare standards or avoiding the use of pesticides and chemicals, for example. We do this by providing financial services and sector expertise that has been honed over more than 35 years.
Sponsoring a food festival allows us to show our support of a systemic shift towards locally sourced, organic and seasonal food, and build relationships with those working towards a similar goal.
Why Abergavenny Food Festival particularly?
The values of the Abergavenny Food Festival converge with our own, particularly with its focus on supporting farmers, championing British produce and sustainability. In particular, we're proud to see that the festival is reducing its food waste and single-use plastics, and increasing amounts of Fairtrade and organic produce.
Many of the organisations we finance attend the Festival too – last year, we were exhibiting alongside Riverford Organic Farmers and River Cottage, who we've worked with closely over the years, supporting everything they stand for.
Triodos Bank has been sponsoring Abergavenny Food Festival for three years now and its been fantastic to see the festival evolve over this time.
How is Triodos Bank different from many high street banks?
Triodos offers the normal services that you'd expect from a bank, such as current accounts, savings and investments, but is selective as to where money is lent. The bank finances projects and organisations in the UK that make a positive and lasting impact on society, culture or the environment and is open and transparent about that, publishing details of every loan and the positive impact it is having.
Over the past 25 years, we've lent money to support Ecotricity's first wind turbine, helped Riverford Organic Farmers transfer to employee ownership and helped fund affordable, eco-friendly homes.
Unlike some high street banks, Triodos will never invest its customers' money in companies that trade in fossil fuels, factory farming, tobacco, arms, or other 'sin stocks'.
Why did you decide to create the recent vision paper on food and farming?
The way we currently produce and consume our food is severely harming ecosystems, our own health and has a negative impact on social equality. At Triodos Bank, we think this must change. In our new vision paper we argue for a radical transition in order to arrive at a situation where healthy and delicious food is produced within the boundaries of our planet.
What is the key thing that you are calling for in that vision paper?
We must return to a system that produces food in harmony with nature, rather than working against it – as is currently often the case. At the same time, a balanced and resilient food system should be created to promote healthy diets and deliver fair pay for farmers.
How did Triodos Bank decide on the three themes in your vision paper as being the most important for the future of agriculture?
The three transition themes that we argue for are balanced ecosystems, a healthy society and inclusive prosperity.
Balanced and resilient ecosystems are vital for human wellbeing as they provide the food we eat, the water we drink and the environment we live in. We support initiatives that work towards balanced and resilient ecosystems by developing healthy soils and safeguarding biodiversity, while simultaneously lowering carbon emissions, creating circular value chains and efficiently using the earth's natural resources.
A transition towards sustainable diets that nourish the body is necessary to provide nutrition for the growing world population and support a healthy and resilient society. We look to support projects that work to improve food security and safety, and eradicate all forms of malnutrition. We also work to promote sustainable and diverse diets that create responsible and conscious consumers.
Finally, the fair distribution of prosperity within food value chains is essential to create food systems that provide sustainable livelihoods. We need fair and transparent business practices that work towards better equality, and to act now to avert the worst outcomes for the most vulnerable communities from the climate emergency.
Do you think the general public understand the true cost of their food, both financially and ecologically?
We're making some progress, but we're not there yet. As a society, we need to revalue natural systems, our food, and the people who produce it, culturally, as well as financially.
True pricing is the monetary valuation of social and environmental factors. Currently,
those 'costs' to the health of people and planet continue to build as a liability that has to be paid for in the future.
If you want to hear more from Simon, join him on our Farming Matters stage on Saturday afternoon for our big debate How to be a farmer now: Growing and investing in the next generation of farmers. Chaired by Steph Wetherell and including Sam & Will Sawday, Steve Goodwin and Alison Rickett alongside Simon this is sure to be a lively and informative panel discussion.
Triodos Bank are also supporting two of our most exciting discussions at this years festival at the Borough Theatre, The Diet that Could Save the World with Tim Lang and Pamela Mason on Saturday afternoon and on Sunday morning a debate on The Future of Farming with Patrick Holden and Professor Chungui Lu.
For more information about Triodos Bank click here