Here at festival HQ we're committed to introducing you to the people who make your food. We believe that when consumers understand the hard-work and passion that goes into producing good, local food we're more likely to value and use it well.
With that in mind here is the latest in our 2019 blog series "Shake the hand that feeds you" a collection of interviews with the best food producers, chefs, writers and farmers from across Wales, so you can start to get excited for #AFF2019.
For this interview, our Programme Co-ordinator Steph Wetherell has been talking to Rod Lewis from Hay Charcuterie who has a stall at the festival this year in the Tiverton Producers Market.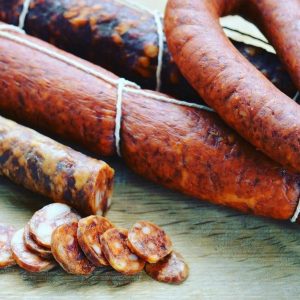 A lot of people might not realise you could make salami and cured meats in the UK
It's true that we usually think of Italy and Spain when we think of charcuterie, because they naturally have the climate to support the curing and drying of the meat. A few years ago I visited a little village just outside Parma, just on the edge of the alps and it's the perfect conditions there to make cured meats, so every building in the village is full of legs of ham drying. Now we can replicate the same conditions using technology to control the temperature and humidity, so you can make great charcuterie anywhere!
How did you end up making charcuterie?
I was a chef for 25 years and was always interested in the processes and science behind cooking – I loved to learn how everything worked, but I felt I'd learnt everything I could being a chef. Salami was something different though, and I was interested to see if I could learn how to make it, so I went on my first course in Italy. I went on three different courses in the end; one in Parma, one in Tuscany and one in Bologna, and learnt by visiting the people who make it there; the best in Italy. I brought back this learning and launched Hay Charcuterie in March 2018.
So how is salami made?
You mince the meat, usually a lean meat like shoulder or leg, and mix it with minced back fat. Then you put the flavourings in, stuff it into casings, hang it in a chamber and raise the temperature and humidity to make the good bacteria flourish. The three things that make salami safe are salt, the dryness of the product, and a low pH level – the lactic acid bacteria bring the pH down.
Other than salami, what other products do you make?
We've started doing charcuterie using whole muscles of the meat, such as coppa, guanciale and pancetta. I get the whole big pig and break it down into as many different parts as I can – some I use for salami, and some I cure as whole pieces. My philosophy is very much nose to tail, I try to use everything – I even make stock from the bones that I sell to local restaurants.
One of my favourite products is the Hereford Ham. It's the hind leg ham, which is cured and air dried. In Italy, they wash the ham with wine to remove the naturally occurring mould flora that appears whilst ageing the meat and also add flavour, but I use Herefordshire cider to give it a local touch.
Where do you source your pigs from?
The pigs all come from local farms. I go to the livestock market and so have met all the local farmers. I use rare breed heritage pigs that are slower growing and take much longer to mature. I also like to get pigs that are 12 months or older, because an older pig works so much better for salami as you get much more flavour, a darker meat and the meat is drier so it's an easier process. The other positive is that the farmer finds those pigs so much more difficult to sell, so you're really supporting the farmer.
What has the response been to your British charcuterie?
People seem to love it! I think everyone wants to know the provenance of their food these days. I'm a member of the Slow Food movement, and have seen an increase in people who want to have low food miles, use local animals, and I think people don't want to buy as many imported products.
A lot of my sales are wholesale, which started in Herefordshire, Powys and Monmouthshire. Recently I did well in the British Cured Meat Awards, ending up in the top 4 in the country, and on the back of that, I've now got restaurants in London who are now ordering from me – my charcuterie is very authentic Italian style and I think people like that.
Where do you want Hay Charcuterie to go from here?
Just to carry on, really! Luckily it seems like everyone I've supplied so far has really liked it and carried on buying my products, so I'm starting to have to make more stuff and expand the business. I need to get some more drying space, but I want to keep the business small – I like the fact that I'm in control and I know the quality is good.