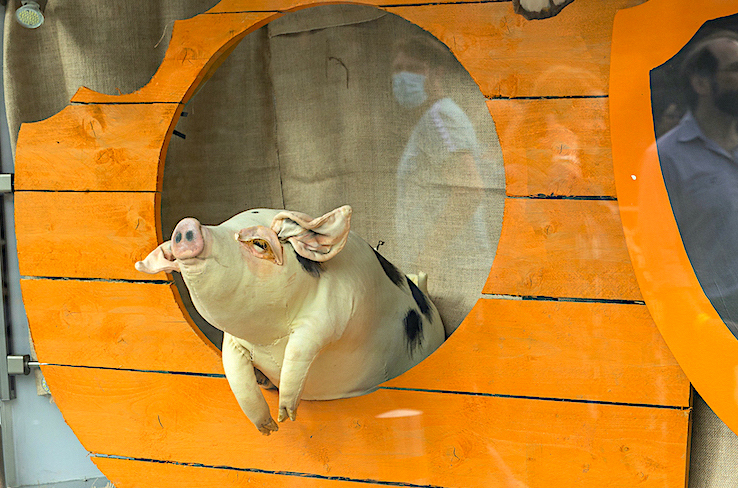 'This little piggy went whee, whee whee. Been to the market, had a little rest, now I've got myself a brand new home…'
When David and Cherry came to the Festival last year, they fell in love with an adorable little pig made by Bettina Reeves (creator of our annual Market Hall installation) and volunteers.
They already had 'Piglet' – given by David to Cherry many years ago when they first met.
"Piglet is a symbol of our love," says David. "He has travelled all over the world with us and even has his own passport. He has also been to the London Olympics where Cherry was a torch bearer for services to the Samaritans."
Piglet now has company. The couple have adopted our pig and named him Gordon after Cherry's father. The handover happened on 26th April (the anniversary of his death) – photo above.
We understand that Piglet is to attend the Commonwealth Games in Birmingham where David and Cherry will be dancing in the opening and closing ceremonies. Perhaps Gordon will join him. A return trip to the Abergavenny Food Festival is also on the cards.
Meanwhile, they are all living happily together in Bromsgrove, Worcestershire.
The Abergavenny Food Bank will be the recipient of their generous donation.