At Abergavenny Food Festival, we want to introduce you to the people who grow, rear and make your food so that you can shake the hand that feeds you, get a deeper understanding of where your food comes from and enjoy delicious local produce, all year round.
This year we're thrilled to have more Monmouthshire food businesses than ever joining us for festival weekend. Here are just a few that you definitely shouldn't wait until September to seek out.
Swedish and Caribbean fusion anyone? Starting their bakery in their home kitchen in 2018 Anna, Oliver and 6-year old Noah started making vegan baked creations representing their mixed heritages. What results are beautiful Swedish bakes with vibrant Caribbean flavours.
Find them at festival in Horsingtons Yard. Find them year-round online or at the corner of Cibi Walk in Abergavenny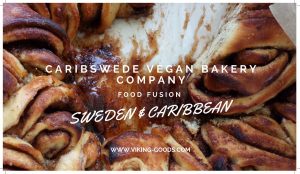 Why send flowers when you can send a box of amazing Chocolate Brownies? Chock Shop are an Abergavenny based one stop shop for handmade, hand baked and hand finished brownies – delivered fresh to your door. Made using the finest Chocolate with a minimum 70% cocoa solids, don't miss out on their Crunchy Peanut Butter, Sticky Toffee and even Rocky Road Brownies.
Find them at festival in St John's Square. Find them year-round online or at festivals and shows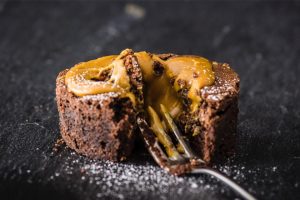 Wild Trail make tasty fruit and nut snack bars that are nutritionally balanced for simple outdoor energy. Inspired by Snowdonia, they make their bars in Wales from five natural ingredients and all their bars are gluten free, dairy free, vegan, high in fibre and with no added sugar. Working hard to create bars that have unrivalled taste and texture has recently earnt them winner of the Nourish Awards 'People's Choice Award' in Autumn 2018!
Find them at festival in Castle Street. Find them year-round online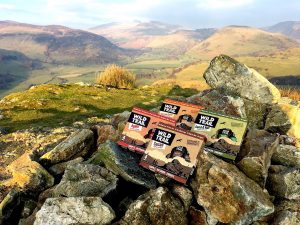 Mouth-watering healthy homemade wraps filled with fresh ingredients, homemade spices, and herbs, made with lashings of love! Often hailed as the 'best festival food ever', all of The Wrap Shack ingredients are locally and responsibly sourced.
Find them at festival in the Fish & Fizz Market. Find them year-round at festivals and events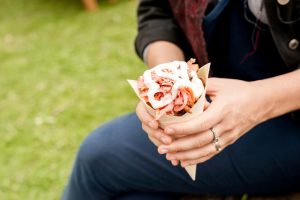 Sorai is an ethical family business based in Abergavenny who capture the flavours of Borneo, and bottle it to create unusual spicy sauces. Their products are derived from many years of recipe development and have been subjected to the taste buds of families, friends, and the wider community. Now you can try their Screaming Pineapple for yourself!
Find them at festival in St John's Square. Find them year-round online or buy their products from Carpanini's in Abergavenny
Cottage Sweets are no ordinary Marshmallow company. Using nothing but the best ingredients such as Madagascan vanilla and real fruit, Cottage Sweets create bold flavoured mallowy treats including Lemon-Thyme, Mango, Coffee and Ginger.
Find them at festival in Cross Street. Find them year-round online or at markets across the UK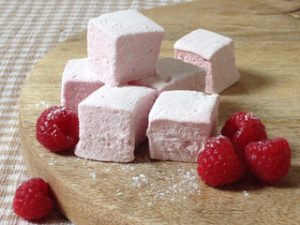 Based in Monmouthshire, but inspired by Japan, GreeeN are a one stop shop for a wide range of Japanese green tea products, including different grades of organic matcha green for ceremonial use, blends better suited to cooking, and high-quality organic loose-leaf and bagged green teas.
Find them at festival in St John's Square. Find them year-round online
Clam's Handmade Cakes use the best quality ingredients for their award-winning cakes and bakes, including free range eggs from local farms across Monmouthshire, Herefordshire and Powys, hand cracked fresh every day. Still baking in the same ovens and using the same methods used over 30 years ago when the business first began, Clam's is now a household name when it comes to excellent cakes.
Find them at festival in Frogmore Street. Find them year-round in by ordering online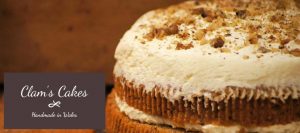 Chesters is what happens when you combine an Englishman, a Welshman and a dog – a truly independent wine merchant where you can buy and try great quality wine from around the world. As part of our festival fringe, Chesters Wine Merchants will be bringing a taste of South Africa to Abergavenny this year with their Abraiigavenny wine tasting and barbecue event.
Find them at festival as part of our Fringe Programme. Find them year-round in Lewis Lane, just off the High St in Abergavenny
Claire's Kitchen
Claire's Kitchen make handmade quality preserves in small batches, using local seasonal produce where possible. Claire has always enjoyed cooking and, 15 years ago, set up Claire's Kitchen to produce the best quality products available and share them with locals at the Chepstow farmers' market. Initially using home-grown produce, demand soon outstripped supply and now the majority of fruit and vegetables come from fruit growers and wholesalers in Monmouthshire and Herefordshire. Pay a visit to her stall to try some samples.
Find them at festival in Nevill Street. Find them year-round in Chepstow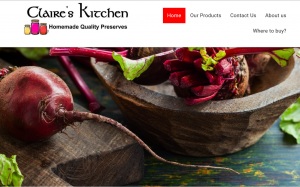 A coffee shop with a difference, the owners of Bean & Bread believe in top quality produce, and a little bit of something different with their programme of yoga events. Bringing a little of the South Pacific to South Wales, this festival fringe they're putting on a Yoga Brunch.
Find them at festival as part of our Fringe Programme. Find them year-round on Lion Street in Abergavenny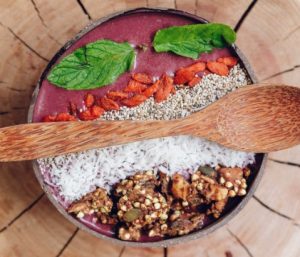 Find out about some more great Monmouthshire food producers in our Mouth-watering Monmouthshire Top 10.