… a message from our friends at Bordeaux Wines:
"We're not only delighted to be making a comeback for the Festival's 25th anniversary, but we're also returning as proud sponsors this year too. We will be hosting three bars showcasing a range of wine styles. Enjoy crémant and white wine in The Priory. At the Castle Bar, you can taste a wide variety of wines produced by Bordeaux, plus in our dedicated Médoc wine bar in Lower Brewery Yard, you can explore wines from all over this world-famous region.
What's more, our friendly and knowledgeable Bordeaux wine experts will be on hand to answer any questions and tell you more about Médoc's offerings… Now all you have to do is kick back, relax and join us in raising a glass of Médoc wine to the Abergavenny Food Festival's 25th anniversary."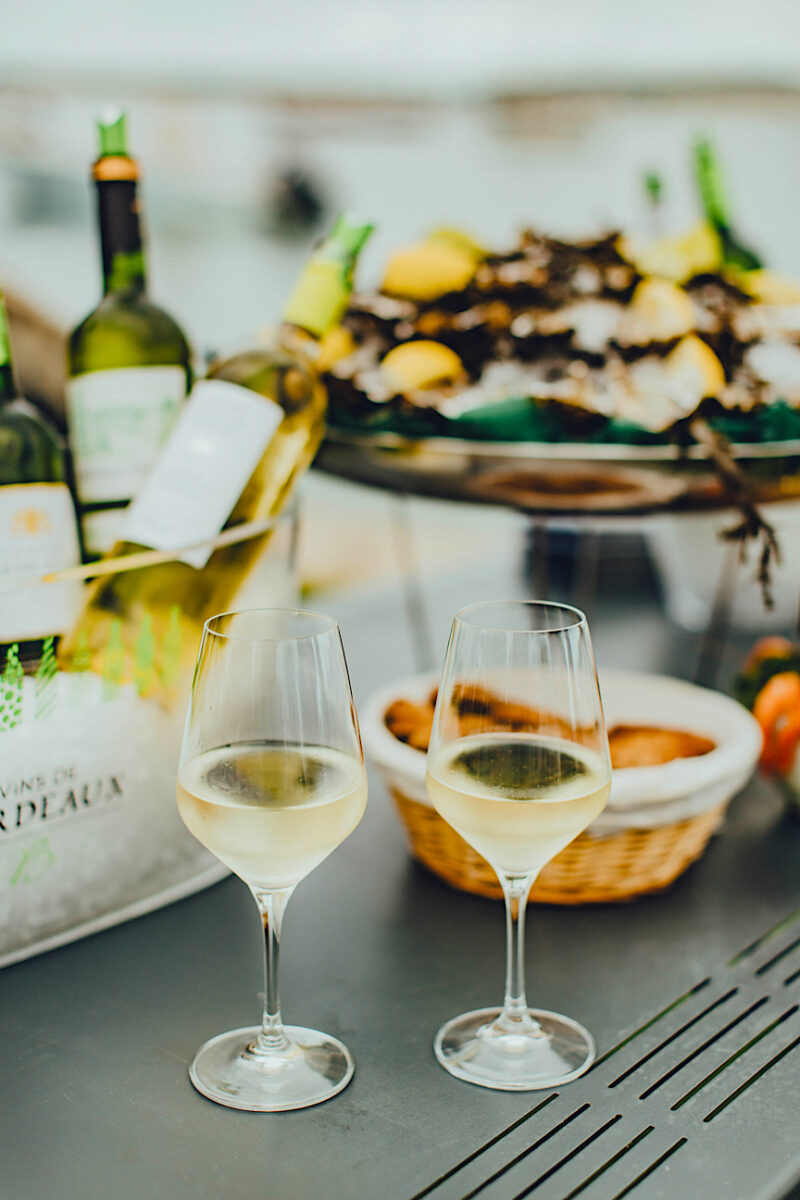 About Bordeaux
"Situated on the banks of the Garonne and Gironde, Bordeaux is home to 108,000 hectares of vines, producing high-quality wines of all colours that are waiting to be explored. Today in the vineyards, there is a new generation of winemakers, who with their vibrancy, enthusiasm and innovation are challenging the status quo in the Bordeaux vineyards, creating modern wines that suit an array of palates and are great value for money. That's not all; with over 75% of the vineyard area now certified sustainable, it's clear that this is an evolving region committed to ethical and regenerative winemaking.
About Médoc — the famous Left Bank
The Médoc is the best-known area of Bordeaux and is located on the left bank of the river Garonne. The Médoc as a whole covers 2 different sub-regions, the Médoc and Haut-Médoc and 6 communales appellations. These appellations are Pauillac, Saint-Julien, Moulis, Margaux, Listrac and Saint-Estèphe. From wines that are generally lighter and earlier drinking with floral and blackberry flavours, to those with a richer tannin structure, and toasty vanilla and sweet nutmeg aromas, these smaller appellations produce some of the world's finest red wines. 
Today, the 8 appellations produced in the Médoc region are committed to red wines with a strong Cabernet Sauvignon influence, but also a significant proportion of Merlot. This famous region in Bordeaux is constantly evolving by using a variety of cutting-edge agricultural and technical innovations to enhance and reflect the diversity of the region's terroir. Médoc is steeped in heritage, and dominated by family producers passing their knowledge through generations, who look to new ways of meeting consumer demands for ethically produced wines, with 91% of the region being either environmentally certified or in the process of converting.
Drinks Theatre Masterclass with Mike Turner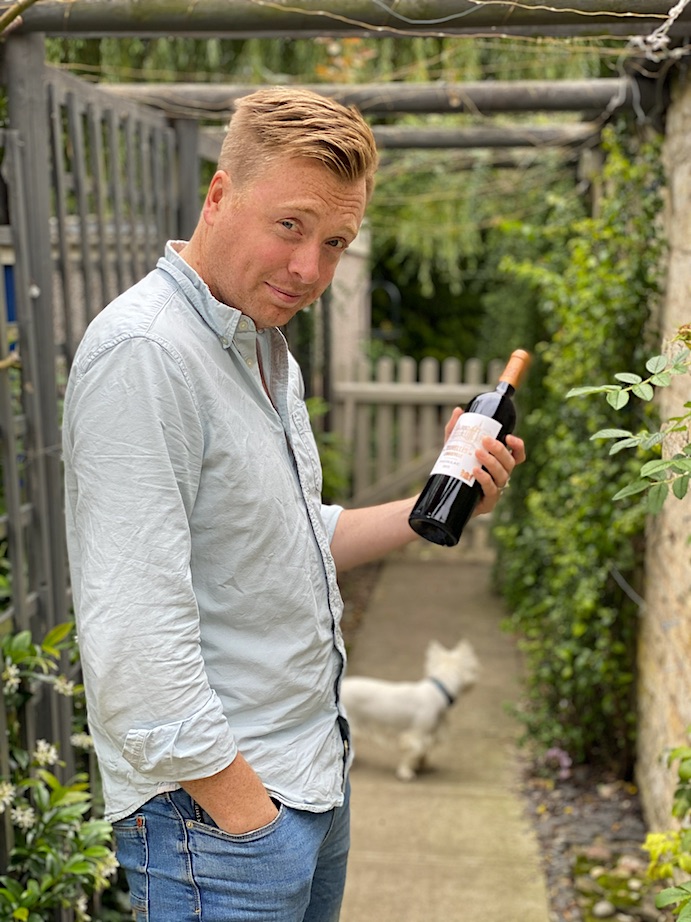 Want to delve deeper into the Médoc? Why not attend one of our two 'A Tasting of Modern Médoc'* masterclasses hosted by Mike Turner, Bordeaux Wines tutor, writer for The Buyer and influencer. This fun and informative tasting tour of six Médoc wines will uncover the region's varied wine styles, grapes and best kept secrets. In this hour-long masterclass, we'll raise a glass to modern Médoc. Alternatively, why not come along to a free, drop-in speed-tasting at The Castle, taking place at various times throughout Saturday and Sunday.
*Link: This takes you to 'What's On'. Select 'Drinks Theatre' on menu bar. Banner image depicts Mike running last year's Bordeaux Drinks Theatre masterclass in the Angel Hotel Ballroom.
Food & Wine Pairings with Bordeaux Wines
If you're coming to Abergavenny Food Festival this September but want to try Bordeaux wines for yourself before you get there, read on to find out about some great food pairings.
While Médoc will be the main feature at Abergavenny, and the wines from the region are very suited to rich, hearty dishes, which complement the wines' structure and flavours, there is more to Bordeaux than its strong, full-bodied reds. From crisp dry whites to bright sparkling crémant and lively rosés, now is the perfect time to explore Bordeaux's more refreshing offerings.
Bordeaux's dry whites reflect the nature of their terroirs and can be lively and fruity, in particular those from the Entre-Deux-Mers, Bordeaux and Blaye Côtes de Bordeaux AOCs, or they can be structured and generous, such as those from the Graves or Pessac-Léognan AOCs
Bordeaux rosés have characteristics that are unique in France. Notes of red berries and a light aroma of boiled sweets, a crystal-clear pale pink colour, mouth-feel, fruit and freshness on the palate.
Crémant de Bordeaux with its delicate bubbles and full of freshness is the perfect and simple match for any celebration. Crémant de Bordeaux Blanc, has fine bubbles and aromas of citrus fruit and white flowers, while Crémant de Bordeaux Rosé haslively bubbles with notes of red fruit
Whatever your preferred style, Bordeaux Wines are ideally suited for enjoying the sun at Abergavenny Food Festival. Here are some of our favourite food pairings for:
1. Bordeaux's White Wines
Oysters with their characteristic salty, iodised taste of the sea, demand vivacious white wines, like the white wines from the Bordeaux appellation, while the fat in battered fish and chips requires a white wine with good acidity. When it comes to salads, the wine choice will depend somewhat on the ingredients. But you simply can't go wrong with a dry, refreshing white wine from Entre-Deux-Mers.
2. Bordeaux Rosé
Discover the Bordeaux Rosé, an original wine pairing for grilled fish. This wine is refreshing, like a rosé, and slightly tannic, like a red. This is also a great accompaniment for pizza. It may surprise you, but rosés actually pair really well with chicken curry. These wines have the acidity and lively young fruit flavours to cut through the richness of the coconut milk in this dish, yet are not tannic, making them the classic choice to stand up to the spices
3. Bordeaux Crémant
Refreshing, light and delicate sparkling wine is perfect for whiling away the afternoon on the terrace or invigorating your evening by topping off your meal. Pair with a strawberry parfait with pistachio coulis or lemon tart with blackberries.
4. Médoc
A Médoc with black fruit aromas will be sensational with braised beef. Or a Korean rib-eye sprinkled with roasted sesame tastes even better with a round and structured red Bordeaux wine. Hard cheeses also pair extremely well with wine from Médoc.
5. Sweet Wine
Bordeaux's sweet wines make a wonderful accompaniment to an array of foods and is surprisingly not just for dessert. Pair sweet wine with Asian and Indian cuisine, such as dim sum, sushi, crispy sesame chicken and even blue cheese like Roquefort.
Find a range of Bordeaux wines and more at Abergavenny Food Festival."